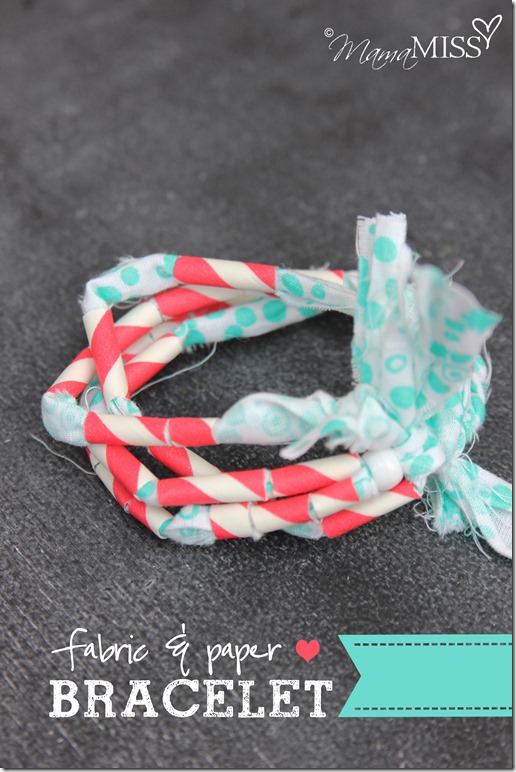 So, this fun little bracelet just popped into my head :)  As I was organizing our kitchen cabinet with all the fun kitchen essentials, thinking I wanted to do another kiddo craft with V soon, I came upon my collection of paper straws.  And then I thought of the recent glitter beads we made using plastic straws & wondered if we could do something with paper straws too?!  I thought how fun would it be to thread with fabric instead of string this time & how unique and organic looking it would be for the fabric to be peeking out between the beads.  Well, that's how my crazy mind works lol!  I dream of fabric & straws :)  I thought red would be fun, so I took some straws down to my sewing room to find coordinating fabric, and voilà, a bracelet was born!  What's even more cool about this bracelet is it only needs 2 materials (& optional pony beads) to make!  Simple, easy, fun…a perfect kiddo craft!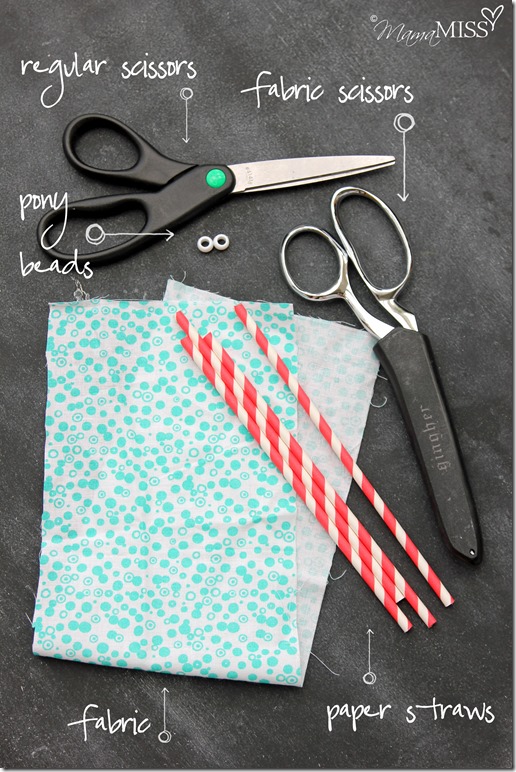 I started by prepping the fabric with small slits using my fabric scissors, so that V could rip it into strips.
She had a tough time at first, but once I started it for her it was a little easier about half way down for her to rip.  We ripped the fabric into four strips.
V then cut the paper straws into pieces, some large, some small – a little bit of everything.  This was a great fine motor exercise for her because of the thickness of the straws.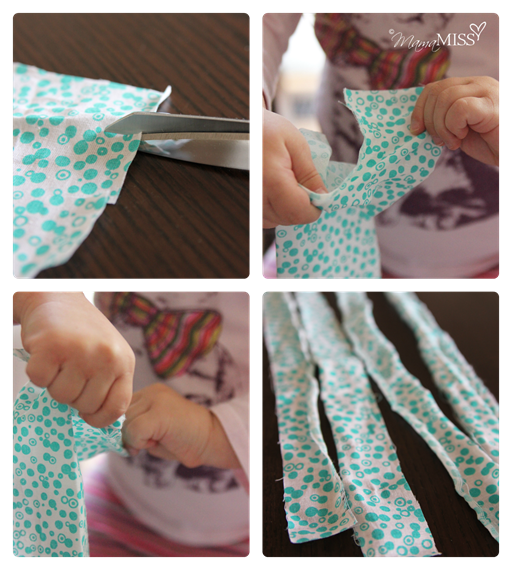 V then threaded her paper beads onto each fabric strip using the plastic kid needle.
There is really no rhyme or reason to this – I went with the flow of where she took me in the process.  She asked for a braid – I gave her a braid :)
I then took the four strips of beaded fabric and tied them together – completing one of the ends with a pony bead and a braid.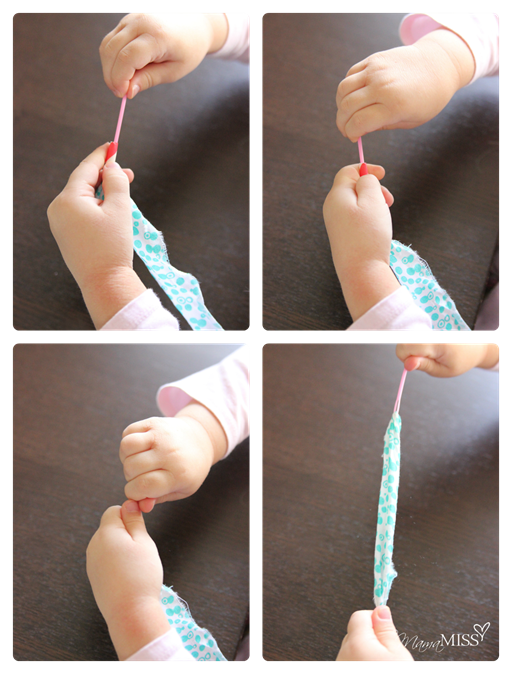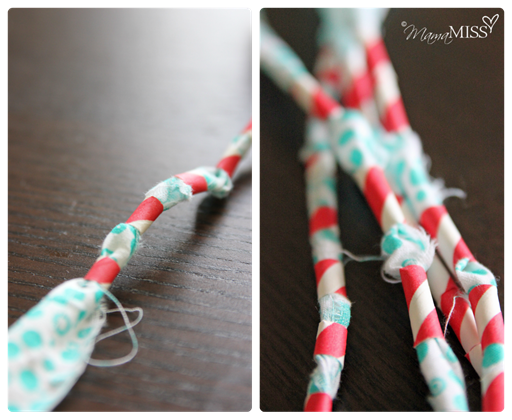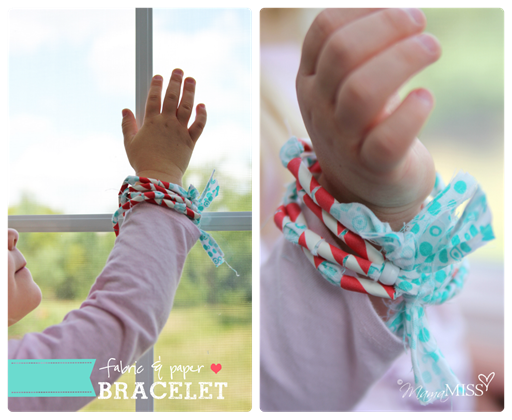 And there you have it – a simple & fun activity with a beautiful kid-made result!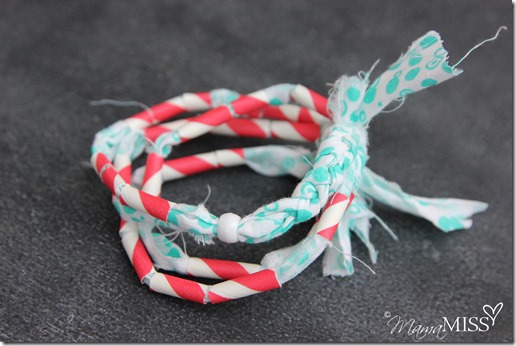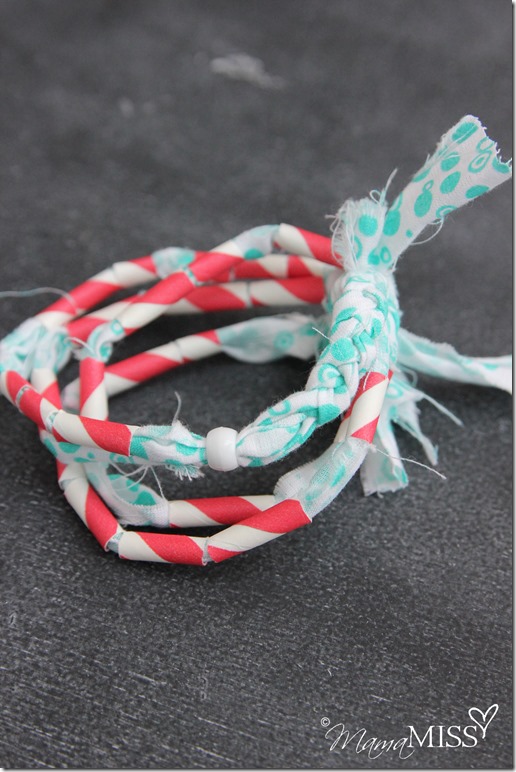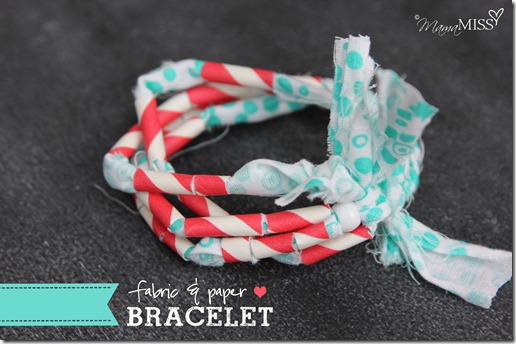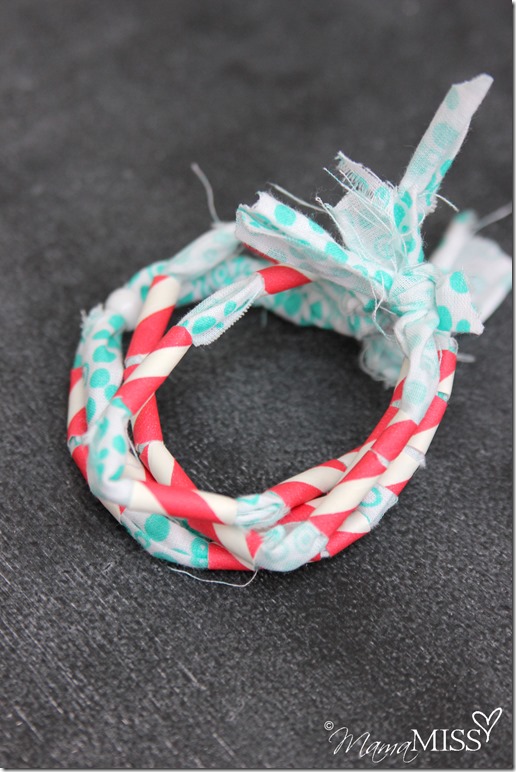 ♥
Like what you see?!
You can connect with me on Pinterest|Facebook|Twitter|Google + too!
♥
© Mama Miss. All images & content are copyright protected.
Feel free to share one picture and linking directly to this post for download.
Please do not copy directions, ingredients, or pdf files for your own website.
Copying my post partially, or fully, is strictly prohibited.
All work by Mama Miss is licensed under Creative Commons Attribution-NonCommercial-NoDerivs 3.0 Unported License.
♥♥♥
Please note that affiliate links are also provided throughout the post for your convenience – to allow direct access to the products suggested.
(Visited 5,712 times, 1 visits today)