"This post is part of a social shopper marketing insight campaign with Pollinate Media Group™ and KuKee, but all my opinions are my own. #PMedia #hellokittyletsplay  http://cmp.ly/3/8vNxcO."
To say that V is a die hard Hello Kitty fan, is well, an understatement.  I really don't know how her HK love began…maybe that it was a kitty (she loooved kitties when she was little) & that it was a cute girly kitty to boot?!  Who knows – I really just think that all girls have a direct magnetism towards all things Hello Kitty :)  Since she was about two-years-old, her Grammy, my mom, has been feeding her Hello Kitty addiction with an abundance of pink kitty love!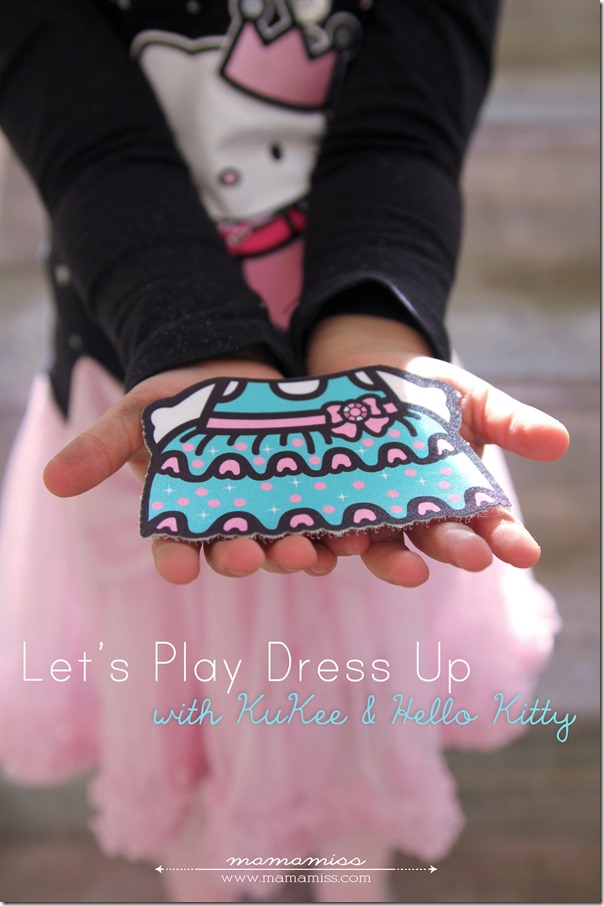 As part of this fab, brand new, line of Hello Kitty clothing called "Let's Play Dress Up" from Evy of California (exclusively at Macy's), pretend play & dress up are the MAIN component.
Well, how does that fit & benefit us – The Hello Kitty/homeschooling/pretend play fanatics?! ;)  Here's how…
As you know by now, homeschooling has become our path recently & a HUGE proponent of homeschooling FOR US, is pretend play & dress up.  We have a ginormous closet just for dress up clothing (take a peek here).  I can't even begin to tell you how many times (or many ways) miss V loves to dress like a ballerina (or a fishing ballerina lol).  She says she wants to be a ballerina when she grows up, or a gymnast :)  She practices her "ballerina" moves every.single.day. even though the girl has never attended a ballet class in her life.  She's a real book lover & has learned all of her "ballerina" moves from her books.  Maybe it's time this mama signs her up for a ballet class, huh?!  Right now she's enrolled in gymnastics, which she loves, but I think ballet is the next step.
When preschoolers, like V, use their imaginations through dress up or pretend play, they are also working on other important academic and emotional muscles. When V wears her "ballerina" outfit and she's twirling around in a pirouette, leaping in the air, or bending her legs in a plié – her imagination is full blown, practicing what she has seen in her books over and over. When she's imagining herself as a "gymnast", by balancing on a pretend balance beam, climbing a rope, or tumbling on the floor, she's actually learning.
And V is never silent when she plays dress up – No siree, Bob! (she's a talker, hmmm where does she get that from lol) – I ALWAYS hear her having conversations with herself.  I sometimes catch her in her conversations & when she catches my eye, she says "mommy I'm just pretending, is that silly?!"  It is silly, but it's a good & necessary silly for growth.  Her mind is always going and growing – continuously churning!  Children that allow their imaginations to run wild with pretend play & dress up become great problem solvers as adults. Why?! Because, creative thinking grows with continued use and ongoing practice – so, the more pretend play & dress up – the more the brain is growing with problem solving skills.
So, now you can see how stoked we were when we discovered a combination of Hello Kitty AND pretend play, TOGETHER – well, this little girl was literally doing cartwheels!  And the added bonus of a fun app on my phone – little miss was SERIOUSLY tickled pink over all this Hello Kitty.  So let me tell you about all this fun we had with the KuKee app & the Hello Kitty Dress Up Series.
After trying on MANY (& I mean MANY – I do believe I've created a little fashionista!) Hello Kitty outfits at Macy's, miss V decided on her two loves…
the PERFECT ballerina ensemble – super girly, with a fluffy skirt and huge bow – ideal for twirling & posing.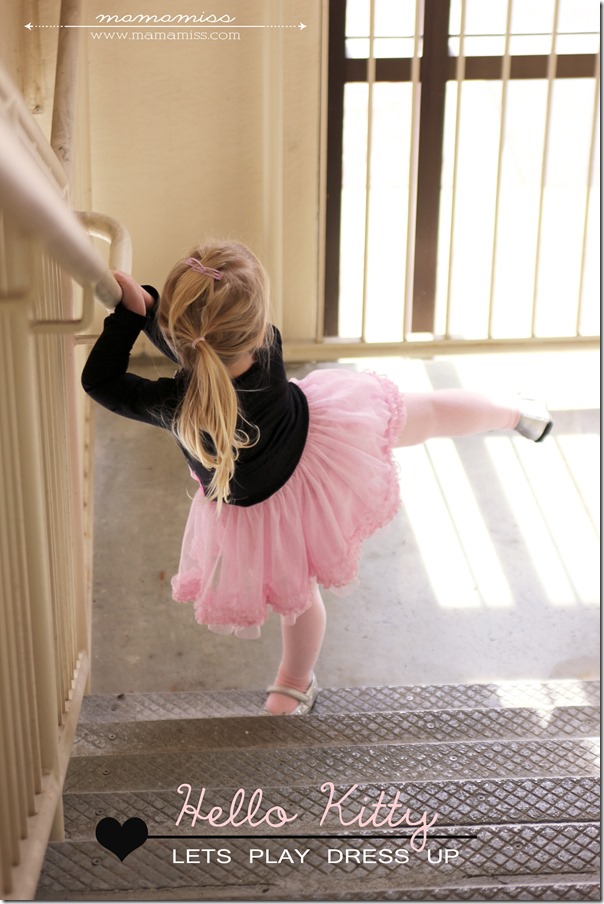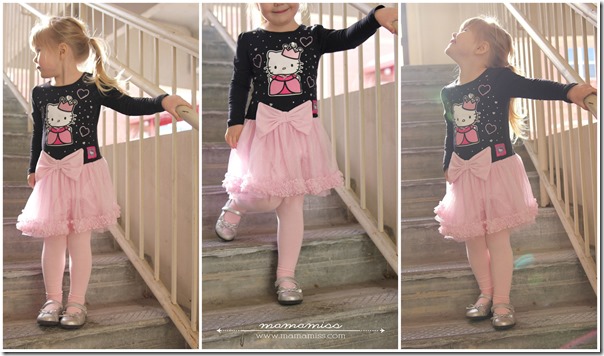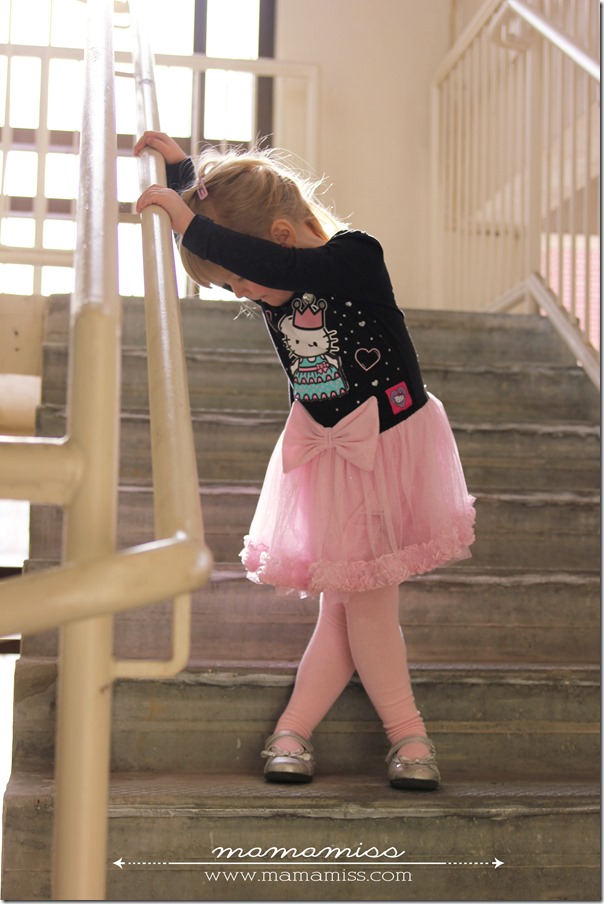 Even Hello Kitty got to dress up!!!!
The ballerina outfit came with a fun little Velcro patch to attach to Hello Kitty on her dress :)
LOVE LOVE LOVE this line (did I say that already?!)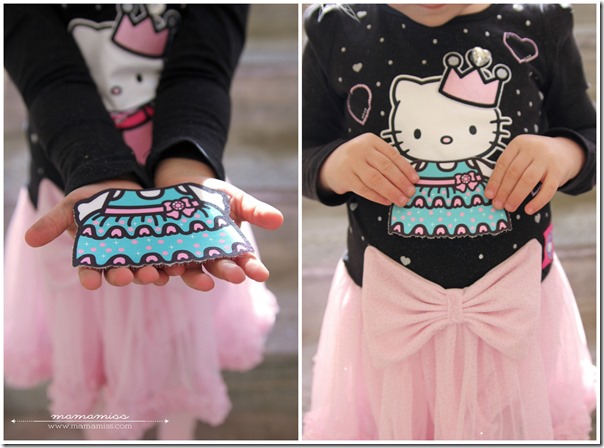 and the PERFECT gymnast ensemble – sporty & comfortable with a soft velour fabric and a touch of girly in the princess crown headband –  ideal for climbing & tumbling.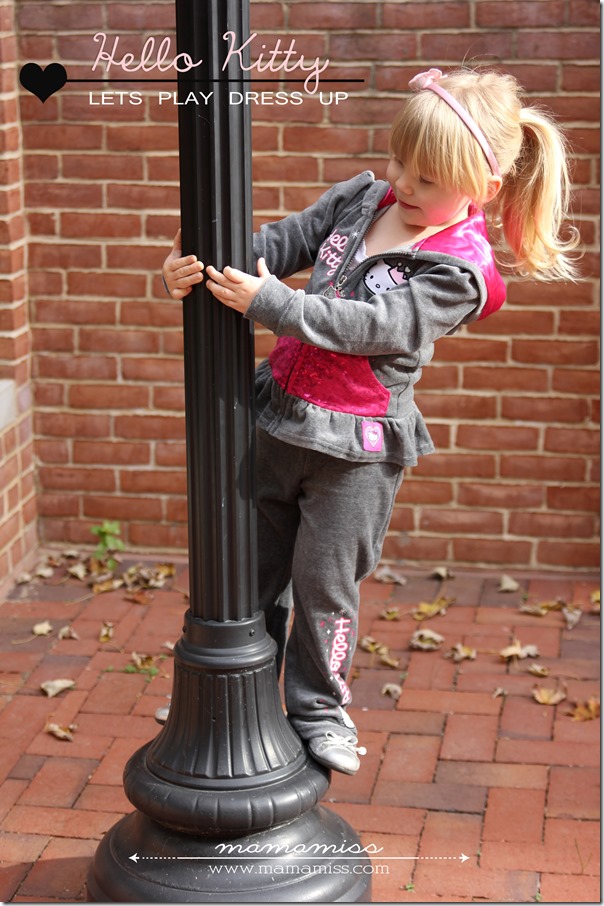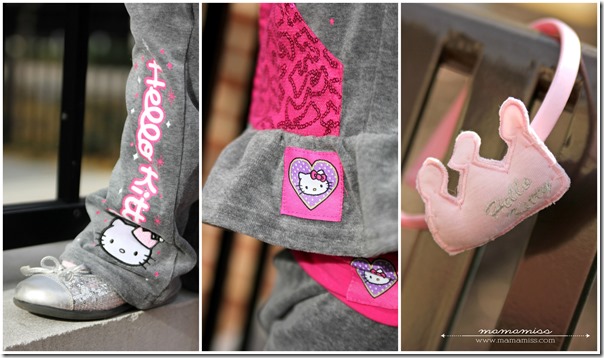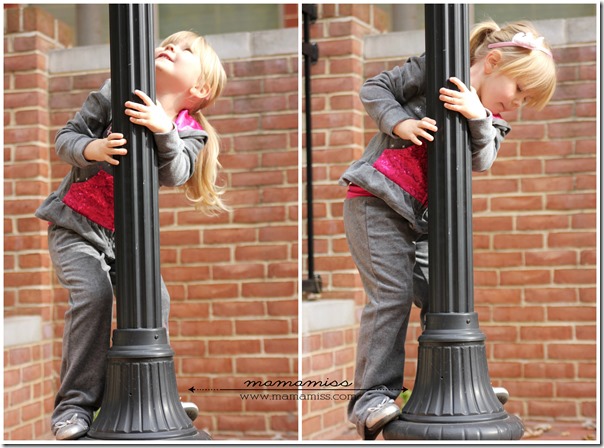 And here's how the cool KuKee app works, in their words:
KuKee is an augmented virtual reality app that is being shared and distributed via Evy of California's new Hello Kitty Let's Play DRESS UP Clothing Line at Macy's (in stores now, and ready for you to shop). Once the KuKee app is opened, use it to scan the cloth tag/marker on the garment and the Hello Kitty Dress Up experience will come to life. Your little girls can dress Hello Kitty up in different garments, crowns and accessories, take a picture and share it with their friends.
Now let's break it down visually – aka Mama Miss style, shall we :)
(to magnify the next three pics – just click on the photo)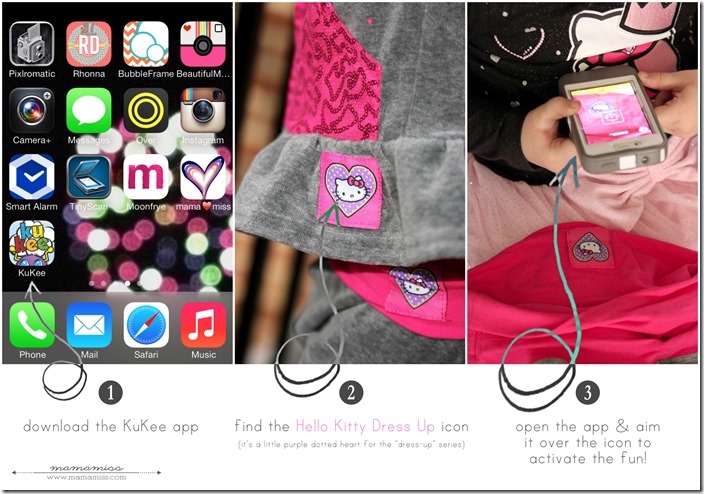 KuKee App on iTunes
KuKee App on Google Play
Now, for more fun stuff!!
There is also the social scavenger hunt!  What's that you say?!
Well, if your kiddos are anything like V, they'll love a good hide & seek game or a scavenger hunt!
So read up here on how to make it happen :)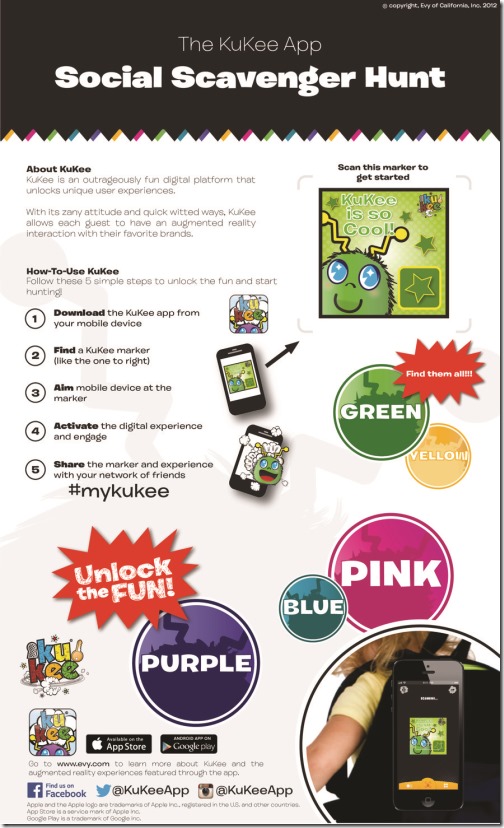 Wait, get back here – don't run out the door to Macy's yet!!
Before you go – download the KuKee app via the app store & start off your fun with your very first little pink KuKee by scanning here.
(you can also get some tips & fun stuff on their Pinterest board too)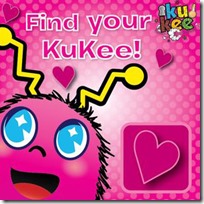 Because you never know about that cell service & how it's going to work when you are buried in Hello Kitty clothing in Macy's dressing rooms – it might not be too great – you gotta plan ahead!!   oh & shhhhhh!  Cyber Monday and Black Friday Macy's sales are coming up too & a little pink KuKee told me that they will be having a sale on all the Hello Kitty Let's Play items.  wink wink ;)
And once you've downloaded & scanned – don't forget to share all your fun KuKee-ness on social media too!
You can find out more about KuKee here.  And you can also find KuKee on:
Facebook  ♥ Twitter  ♥  Instagram

♥
Like what you see?!
You can connect with me on:
 Pinterest|Facebook|Twitter|Google + too!
♥
© Mama Miss. All images & content are copyright protected.
Feel free to share one picture and linking directly to this post for download.
Please do not copy directions, ingredients, or pdf files for your own website.
Copying my post partially, or fully, is strictly prohibited.
All work by Mama Miss is licensed under Creative Commons Attribution-NonCommercial-NoDerivs 3.0 Unported License.
♥♥♥
(Visited 1,206 times, 1 visits today)