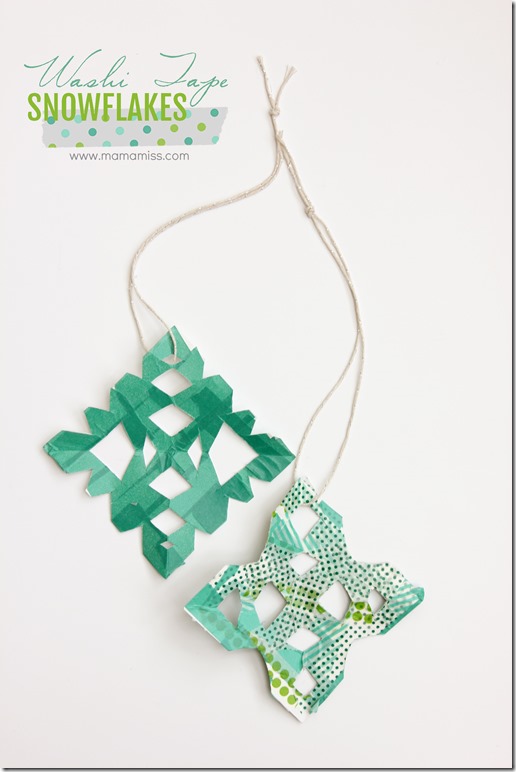 Well, as you know by now, I just may be a little obsessed with washi tape ;)  No, not me – she exclaims!
This kiddo project was so fun, ummm anything involving tape in our house is super fun!  Side note:  while I was working yesterday the two little monkeys V&T were given some scotch tape to make "cards" for Valentines Day.  OY – tape with free reign, can you imagine their glee!  That tape was everywhere lol – little T's hair, the tv, the chairs, my socks – oh it was a decorating frenzy up in here!  And auntie Angel, your package to be mailed out, may or may not, look like it got into a battle with a tape dispenser, and the package sadly lost that battle – just sayin' ;)
And due to the insane amount of snow we have received this winter, I decided to incorporate that snow it into some learning fun, because why not, that's a perk of homeschooling – some days we just let our environment dictate the learning.  So, we had our weekly co-op reading/crafting day & had our friends over for some snowflake making fun :)
We read…
And we made these pipe cleaner and bead snowflakes along with these Washi Tape Snowflakes to go along with our reading.
So for these really easy Washi Tape Snowflakes all you need is…
See, you probably already have all these things at home – wahoo – that's my kind of kiddo project – easy, peasy!!
So here's some steps to make these Washi Tape Snowflakes happen…
Start off with a perfectly square 4"x 4" piece of paper – here's where the ruler comes in.  I just cut up some copy paper (one 8.5×11 sheet made 4),  but if you happen to have origami paper on hand it is already perfectly square so it would work perfectly too.
Have the kiddos tape up the square completely – COMPLETELY – no white left – cover that square up! :)
Once they've done the taping, fold it into a smaller triangle (as you would a snowflake), and cut it up to create a snowflake.  This was a step I did, but if you have an older child that's comfortable cutting through the very thick layers of tape & paper without removing an appendage, then by golly have them do the work ;)  If you are unsure how to make a snowflake, here's a simple snowflake tutorial from Frugal Fun For Boys (scroll down for "how to fold four sided snowflakes") to refresh those memory seeds.
Open it up – bask in the ooohs & aaahs!
Add some twine if you are hanging it, & voila – pretty little washi tape snowflakes!  And just like a snowflake – no two are alike :)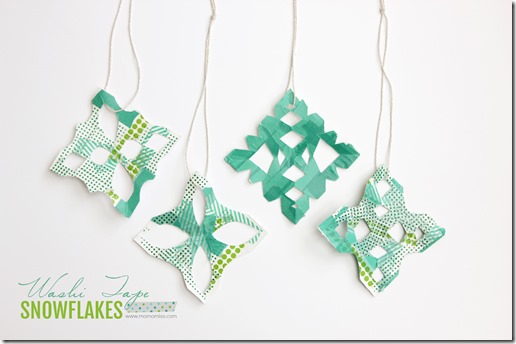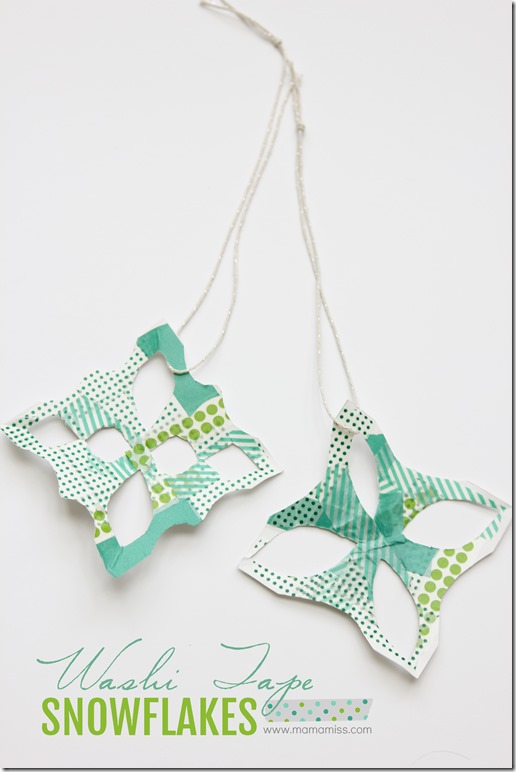 ♥
Like what you see?!
You can connect with me on:
Pinterest || Facebook || Twitter || Google +
♥
© Mama Miss. All images & content are copyright protected.
Feel free to share one picture and linking directly to this post for download.
Please do not copy directions, ingredients, or pdf files for your own website or Facebook page.
Copying my post partially, or fully, is strictly prohibited.
All work by Mama Miss is licensed under Creative Commons Attribution-NonCommercial-NoDerivs 3.0 Unported License.
♥♥♥
(Visited 1,977 times, 1 visits today)