I can't tell you how excited I am to be participating as a blogger in the Virtual Book Club for Kids this year!
To start off, for the month of September, we will diving into Mo Willems, and Don't Let the Pigeon Drive the Bus, one of our favorites!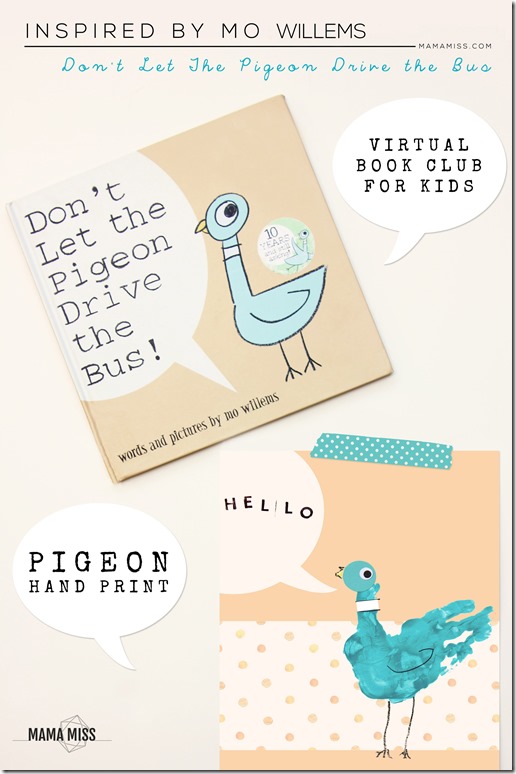 Here at the Mama Miss house – any day we can dip our hands in paint is a good day!  While reading the book, Don't Let the Pigeon Drive the Bus, we decided the direction of our activity – a pigeon hand print!  The shape of the pigeon was screaming "HAND PRINT" at us :)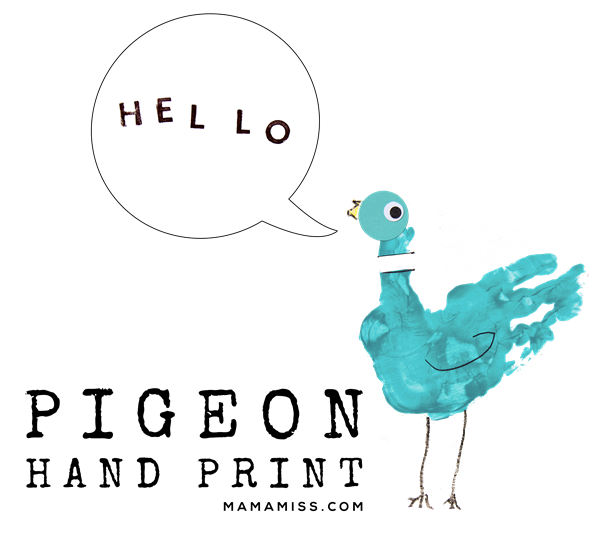 Let's get started!
Grab your supplies
Apply finger paint to child's right hand – covering it fully.
Place hand on watercolor paper, thumb up & fingers together, creating your pigeon.  Set aside & let dry.
While the hand print is drying, punch out a 1" circle in the blue paper, a 3/8" circle in the white paper, and a 3/16" circle in the black paper.  Layer them on top of each other, gluing in order, biggest to smallest, creating your pigeon's eye.
Once hand print is dry, have your child draw a beak, wings, and legs on the pigeon with the crayons.
Cut a small rectangle strip out of the white cardstock and glue to the pigeons neck.
Cut out the hand print, trimming around the edges.
Print out the fun little printable background I created here.
Glue your pigeon hand print to the background printable.
Using your alphabet stamps – stamp a fun little pigeon saying in the speech bubble, we stamped "hello"!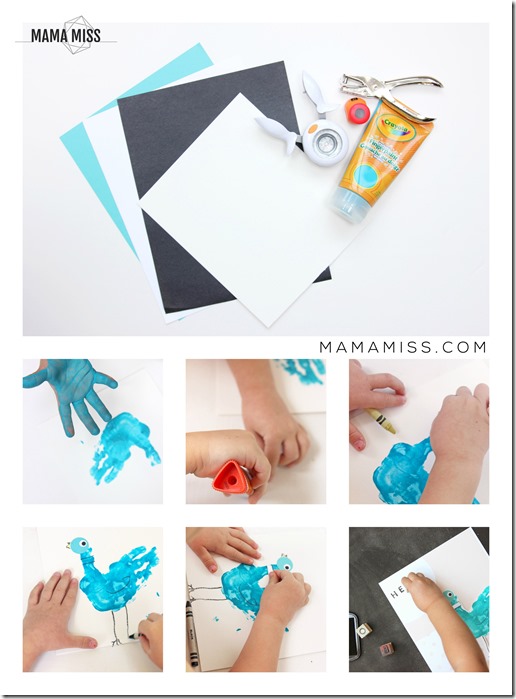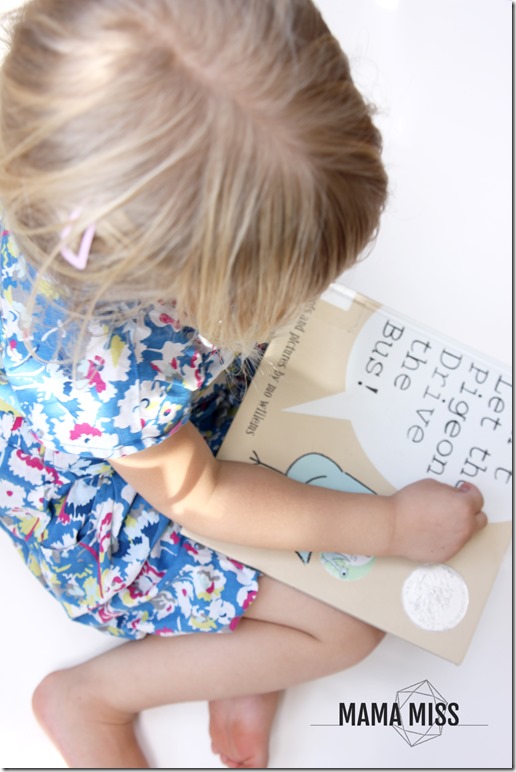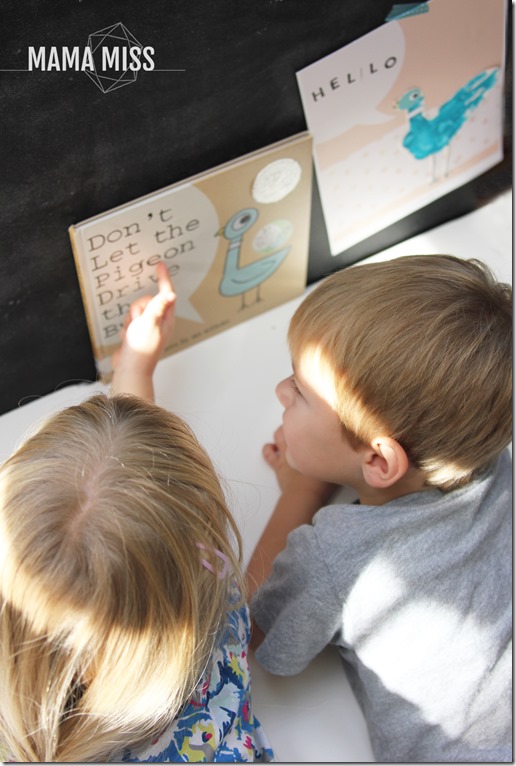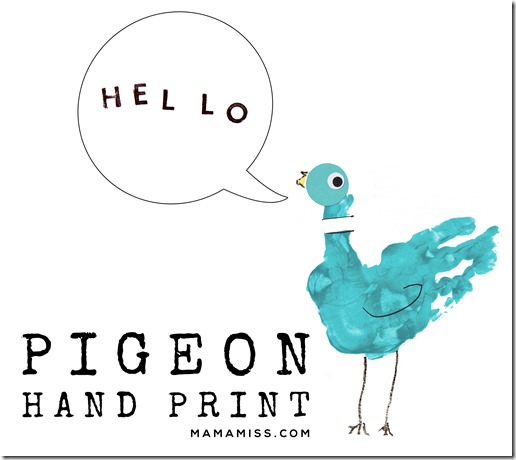 We would love for you to come join us in all the fun!!!  See the whole 2014-2015 line up here.
Have you created an activity inspired by Don't Let the Pigeon Drive the Bus?  Tell us what you did here in the COMMENTS or over on the Virtual Book Club for Kids Facebook page where we will be featuring each month our book related ideas!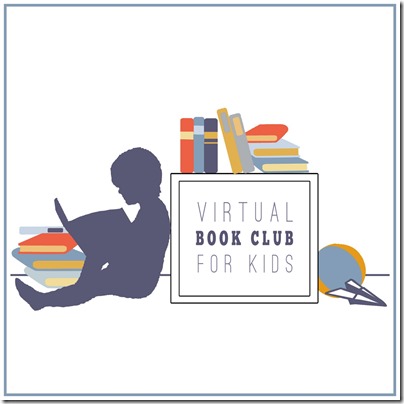 Here are the other participants for this month's author, Mo Willems:
Don't Let the Pigeon Drive the Bus Activities 
Cardboard Box Bus Craft & Number Game for Kids by Toddler Approved
Don't Let the Pigeon Drive the Bus Activity by Coffee Cups and Crayons
Don't Let the Pigeon Drive the Bus Puppets by Playdough to Plato
Don't Let the Pigeon Drive the Bus: Puppets, Crafts and Storytelling by Playing with Words 365
Letter B is for Bus Craft by Royal Baloo
Pigeon and Bus Activities inspired by Mo Willems by The Educators' Spin On It
Pigeon Rhyming Race Activity by Growing Book by Book

Knuffle Bunny Activities 
Mo Willems Inspired DIY Bunny Costume Felt Headband by The Educators' Spin On It
Knuffle Bunny Activity Mats by ready-set-read

The Duckling Gets a Cookie Activities 
Counting Chocolate Chips – Duckling Get a Cookie by 3 Dinosaurs
Nut Free Alphabet Cookies by Rainy Day Mum
Sticky Cookie Craft by The Pleasantest Thing
The Duckling Gets a Cookie Math Games by Inspiration Laboratories
The Ducking Gets a Cookie Printable Clothespin Activity by Lalymom
Duckling Gets A Cookie Simple Craft and Helping Hand Activity by The Good Long Road
You can also follow along with the Virtual Book Club for Kids here…
Website  // Pinterest  // Facebook  // Google+ Group
————————————–
Next month, October 9, join us for…
Julia Donaldson –The Gruffalo
, Stick Man
, Room on the Broom
I hope you join me (+V&T) as we share a super fun, activity/craft to accompany our selected book each month!!

♥
Like what you see?!
You can connect with me on:
Pinterest || Facebook || Twitter || Google +
And don't miss any updates…
♥
© Mama Miss. All images & content are copyright protected.
Feel free to share ONE picture and linking directly to this post for download.
Please do not copy directions, ingredients, or pdf files for your own website or Facebook page, visuals or words.
Copying my post partially, or fully, is strictly prohibited.
All work by Mama Miss is licensed under Creative Commons Attribution-NonCommercial-NoDerivs 3.0 Unported License.
♥♥♥
(Visited 9,553 times, 1 visits today)