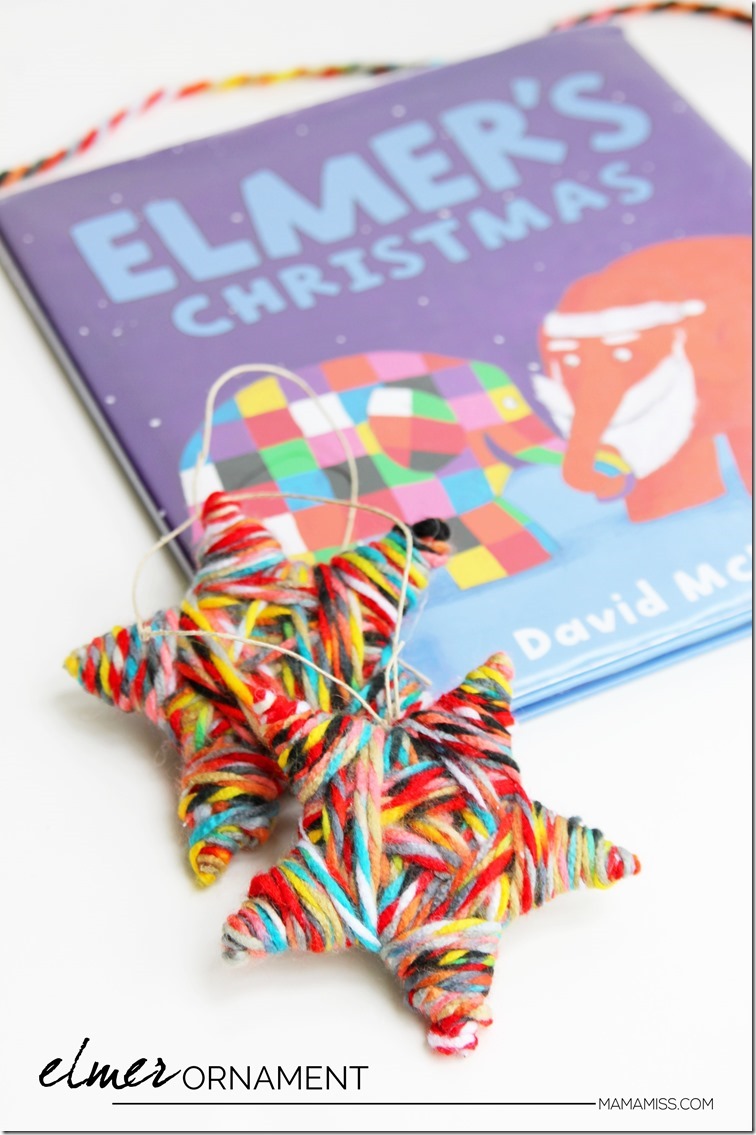 Well I told you how I love an eclectic & homemade kinda' Christmas tree with lots & lots of homemade love last year, right?!

There is just something about mis-matched ornaments and the "beauty in the chaos"… and what our imperfect/perfect tree represents.
It was decorated by V&T.
It holds handmade ornaments by my Grammy, handmade ornaments by the kids, and handmade ornaments from when we were little.
It holds memories – first Christmas's, new babies, anniversaries, gifts, childhoods, heirlooms.
It holds collections. It holds traditions.
And, although it's not shiny & perfectly color coordinated – it's absolutely more beautiful and more perfect than any tree could be.
And with that – we are back this year – YAY!! – with a ton of home-made Kid-Made Ornaments!  This year they are all inspired by children's books.
So, grab your kiddo, and your kiddo's favorite book, and let's get to craftin', shall we?!
For the next 10 days (kinda), December 1st-5th & December 8th-12th, we will have several (70+) new kid-made ornaments each day.  eeeek – I'm sooooo excited!!!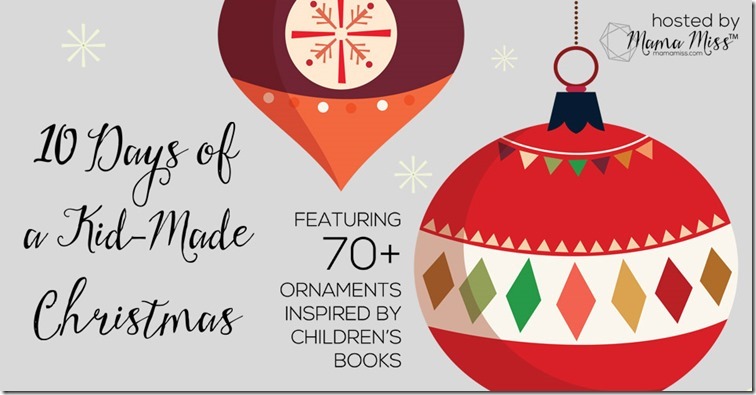 I'm kicking it off today with an Elmer Ornament from one of our favorite books – Elmer
& for this time of year his festive Christmas book – Elmer's Christmas
!  They are both such great books & the lesson Elmer's books have to tell – about how important it is to just be yourself.  LOVE!
We were inspired by this gorgeous yarn we found – with so many lovely colors it reminded us of Elmer & his bright-colored patchwork – perfect for an Elmer Ornament.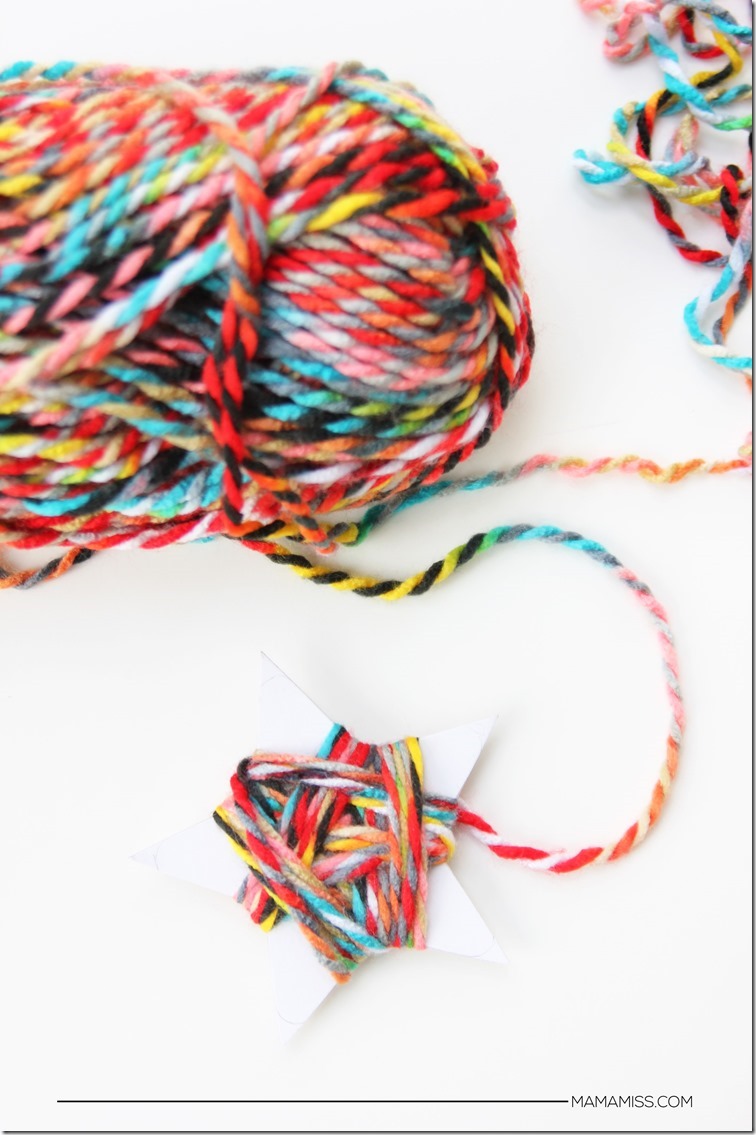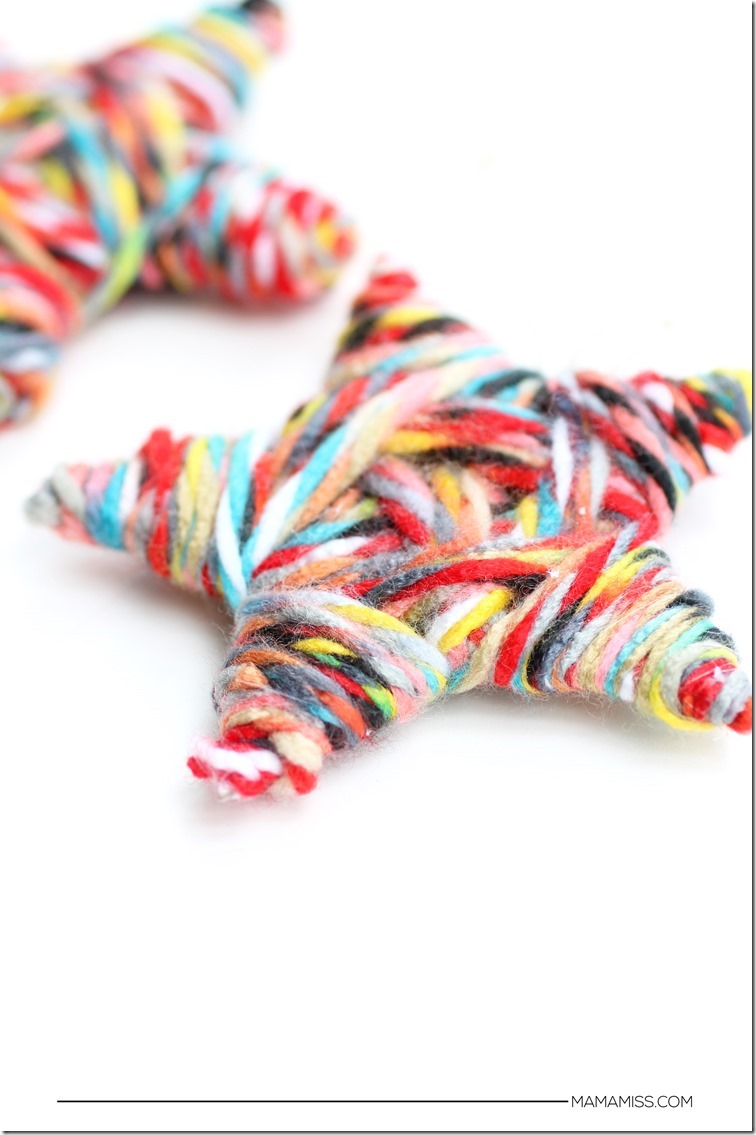 So this Kid-Made Elmer Ornament is really quite simple.
You'll need…
– colorful yarn
(this is the one I used)
– twine
– scissors
– cardboard
– pencil
– star shape to trace (we used a plastic cookie cutter
)
– Super Low Temp Glue Gun
– Super Low Temp Glue Sticks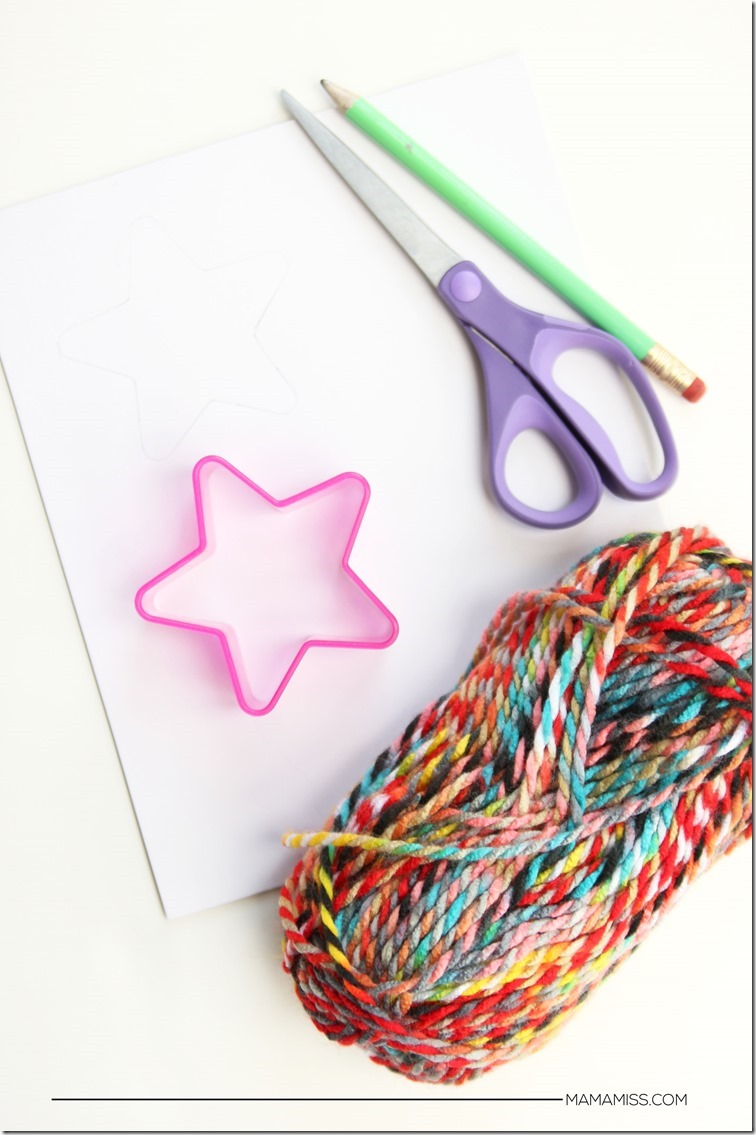 To make it…
1. Trace your star shape on the cardboard, with the pencil.
2. Cut out the star shape (this might be a mama helping point – the cardboard was a little tough for V to cut).
3. Start wrapping the yarn around the center, tucking the end in underneath.  Wrap until middle is full covered.
4. to 12. Wrap the points one by one – wrapping and gluing, wrapping and gluing, until it's finished.  Tuck the end in on the back & glue to secure.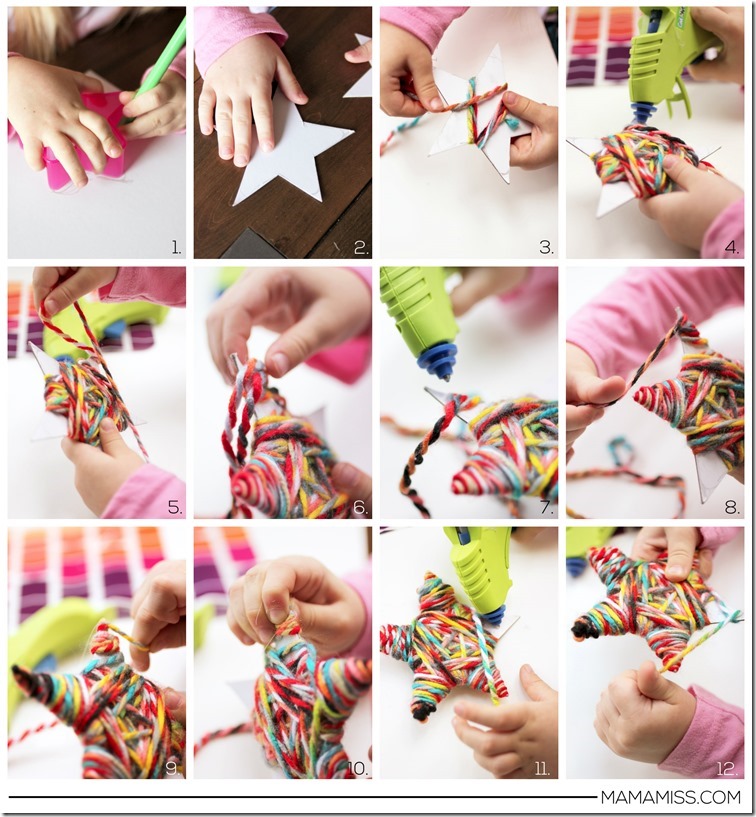 Voila! It's done!  A magical little ornament for a magical book!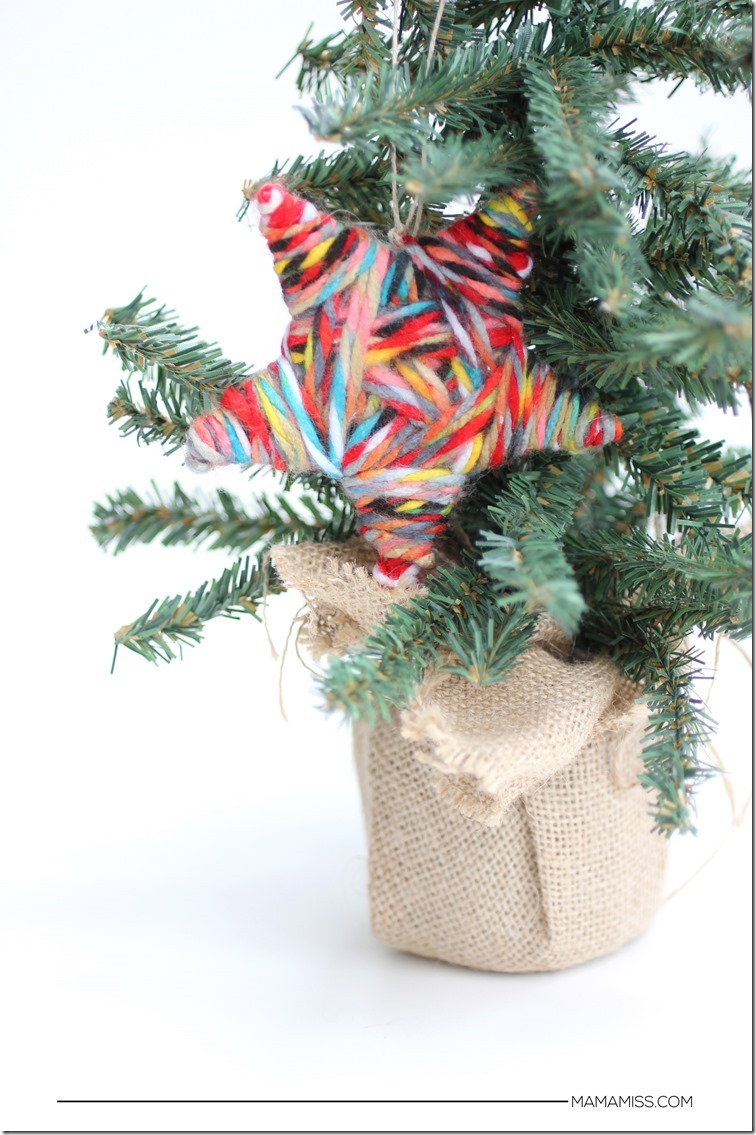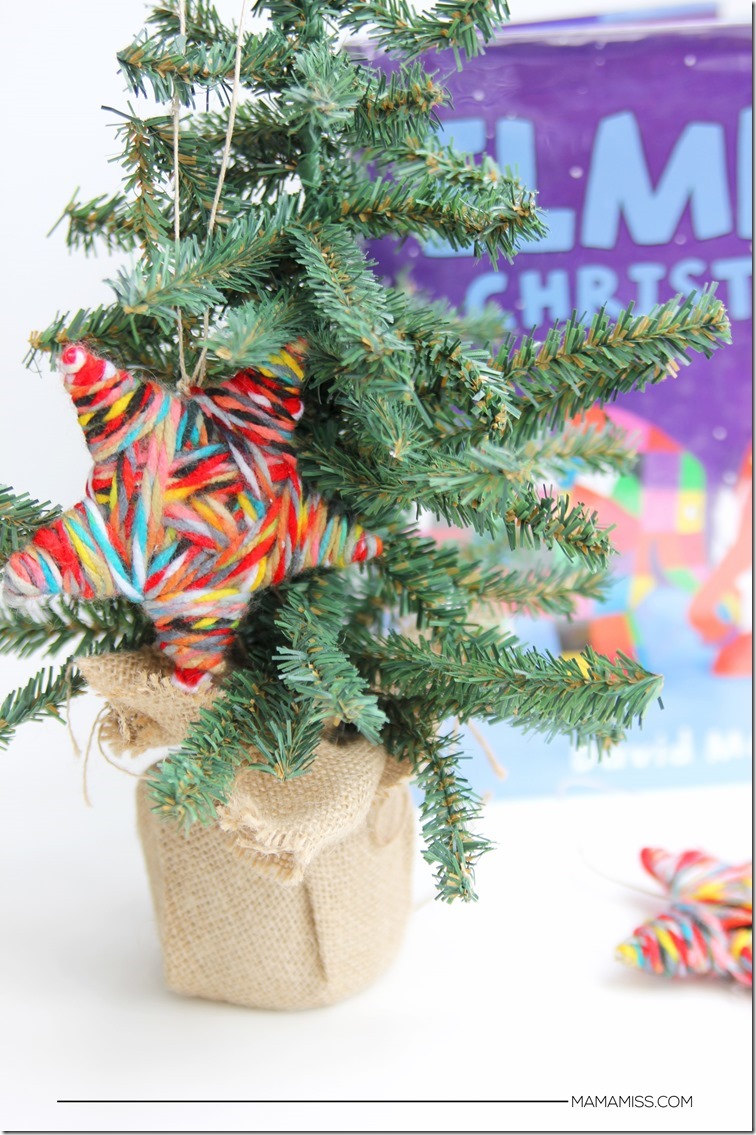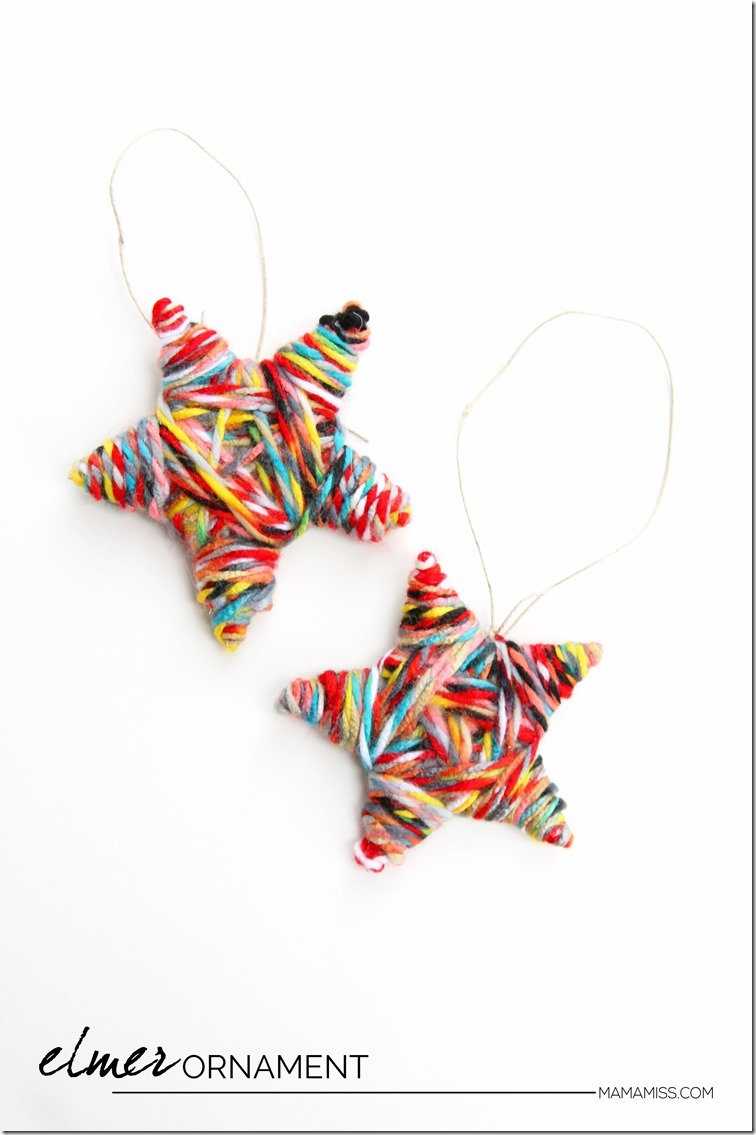 If you love Elmer as much as us – there are a ton of other Elmer books
by David McKee – make sure you check those out too!

Here are the other fab bloggers that are posting today, make sure you pop on by & start pinning!!
Oh & speaking of pinning – you can find all kinds of kid-made ornaments here for your kid-made Christmas & I'll be pinning all the ornaments as they are linked up below too, to this board.  Soooo get to crafting & linking, my friends :)
You can find the schedule here of what is coming each day (where I'll also link the actual post up as they go live).  Plus you'll find them linked up below!  I can't wait to see what you've been crafting with your kiddos!!
Would you like to join in on the fun too?!
Here's how:
Just link a KID-MADE ornament you've created with your kiddos. (Q: What's kid-made? A: Well, it must be made by your kiddos, or with some mama help, just not totally mama-made).
Add this pretty little button to your blog post, or your sidebar, or somewhere on your beautiful blog letting me know you are joining in on the fun too!!
Please only link things you've made, from YOUR blog.
Label it: 10 Days of a Kid-Made Christmas & link it to THIS page.

♥
Like what you see?!
You can connect with me on:
Pinterest || Facebook || Twitter || Google +
And don't miss any updates…
♥
© Mama Miss. All images & content are copyright protected.
Feel free to share ONE picture and linking directly to this post for download.
Please do not copy directions, ingredients, or pdf files for your own website or Facebook page, visuals or words.
Copying my post partially, or fully, is strictly prohibited.
All work by Mama Miss is licensed under Creative Commons Attribution-NonCommercial-NoDerivs 3.0 Unported License.
♥♥♥
(Visited 121,141 times, 8 visits today)