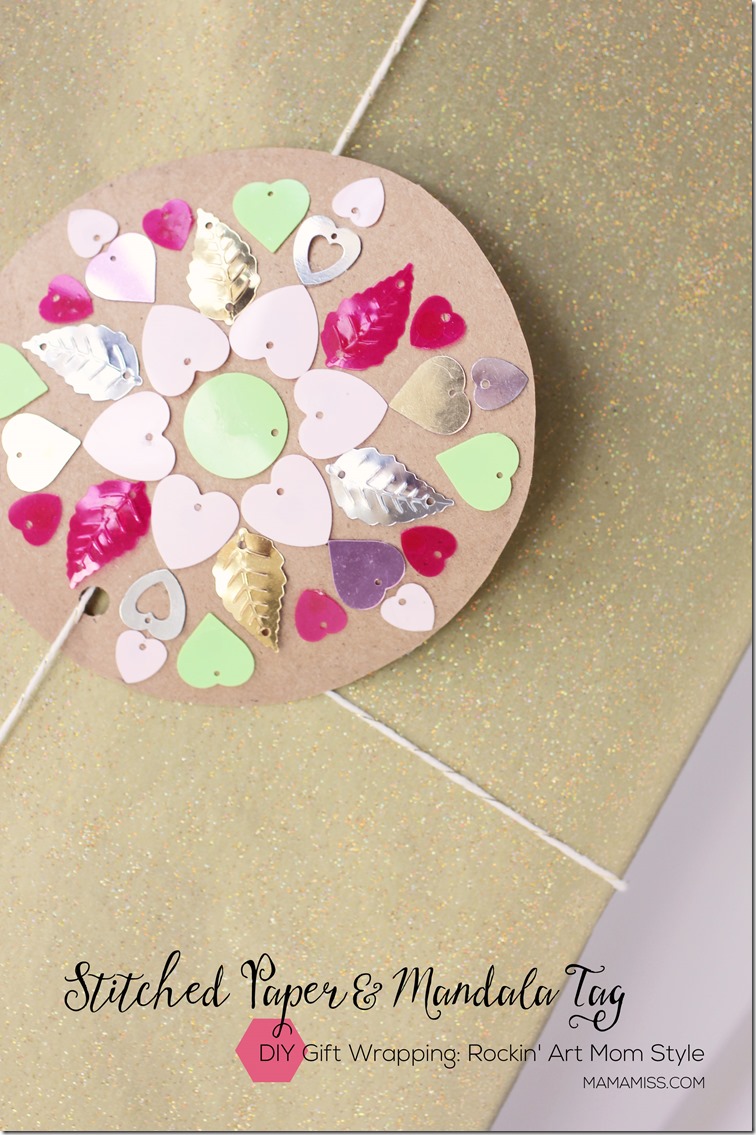 I'm back with another series with the Rockin' Art Moms today!
Our last series focused on making better blog photos.  Today we are here to bring you some handcrafted, DIY Gift Wrapping: Rockin' Art Mom Style!
I decided to do a mama project this time (for the post) since those are few & far between – buuuuut as the way things work out – V usually wants to do everything I do, so of course I let her with this as well :)  To turn this into a kid-made project, just use a Super Low Temp Glue Gun
, Super Low Temp Glue Sticks
, and a Plastic Sewing Needle
(which is what we did).
Lately I'm obsessed with Mandala's – OBSESSED!!
Inspired from some fellow Rockin' Art Moms (Picklebums, Meri Cherry, Babble Dabble Do, Tiny Rotten Peanuts, Artful Parent) to start…Mandala's are on the design brain lately!
Creating mandalas helps stabilize, integrate, and re-order inner life. – Susanne F. Fincher
I would have to totally agree with that assessment – something about the sequencing, placing pieces symmetrically, and one-by-one – amazingly therapeutic (my new go-to chill time activity)!  And these mandala gift tags are a little bit of perfect.
Today I'm creating a super simple, totally handmade, Stitched Wrapping Paper & Mandala Gift Tag – to add a bit of creativity to your gift giving this holiday season.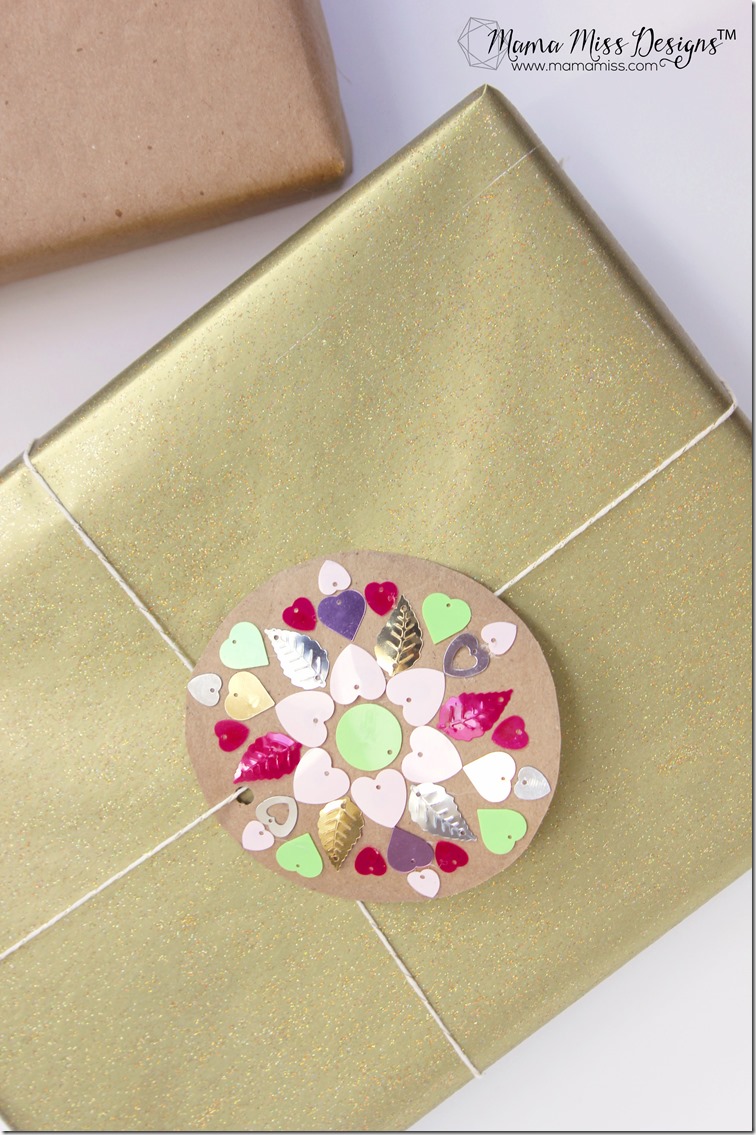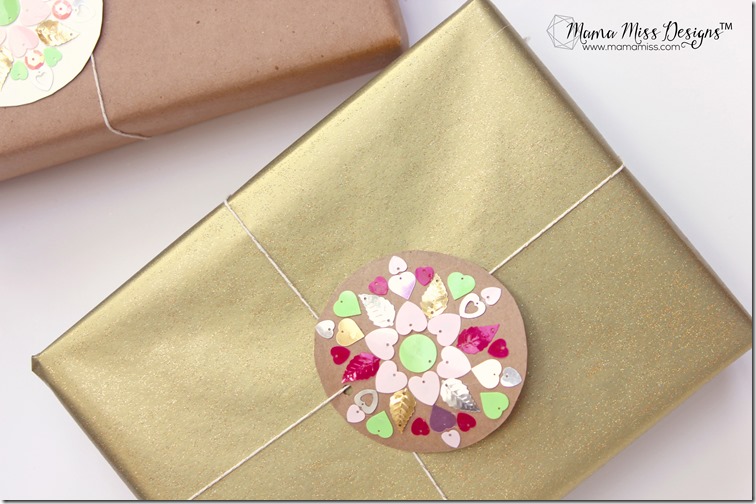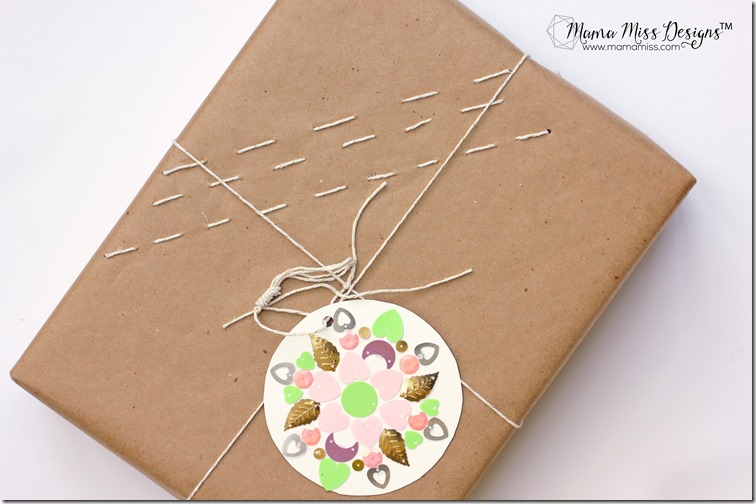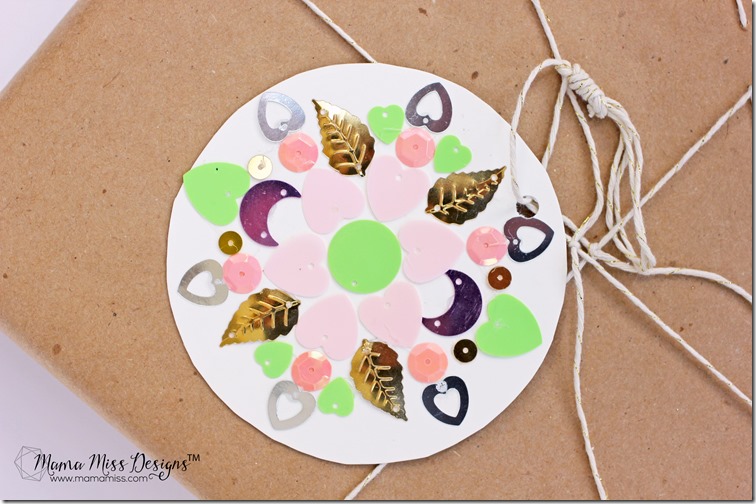 materials/supplies Stitched Paper & Mandala Gift Tag
instructions
-to create the Mandala Tag
Start off by creating your desired circle shape on the cardstock using your compass (you could also trace a DVD or a household circle shape too).
Cut it out with scissors.
Have fun – lay out your design on the circle cut out with the sequins/spangles – play with different patterns.
Using your glue gun, starting with the middle piece, lifting up individually the sequins and gluing them down.
Punch a hole in the top with a hole puncher – thread with twine to make it a tag.
-to create the Stitched Wrapping Paper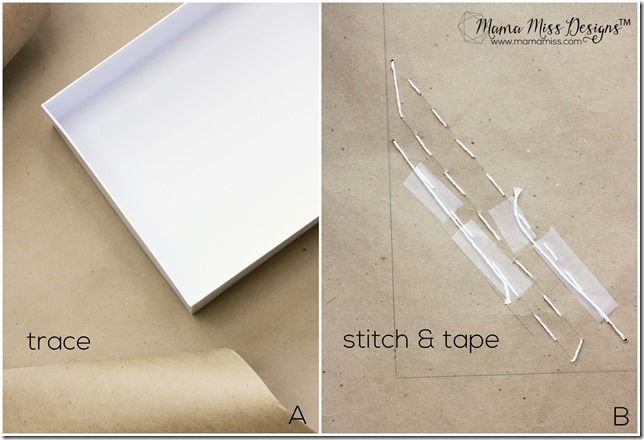 Start off by tracing the top lid of your box (from the gift you are wrapping) onto a section of the wrapping paper you are using (thicker paper like kraft paper is ideal to be able to not rip during the stitching. *A
Create your desired pattern for stitching – drawing it with a pencil (I created a simple three lines) – on the inside of the wrap within the parameter of the traced lid.
Using your large eye needle stitch the pattern with the twine.  Tape down the ends (on the inside when finished). *B
Line up your box, upside down, lining it up in the traced square & wrap your present!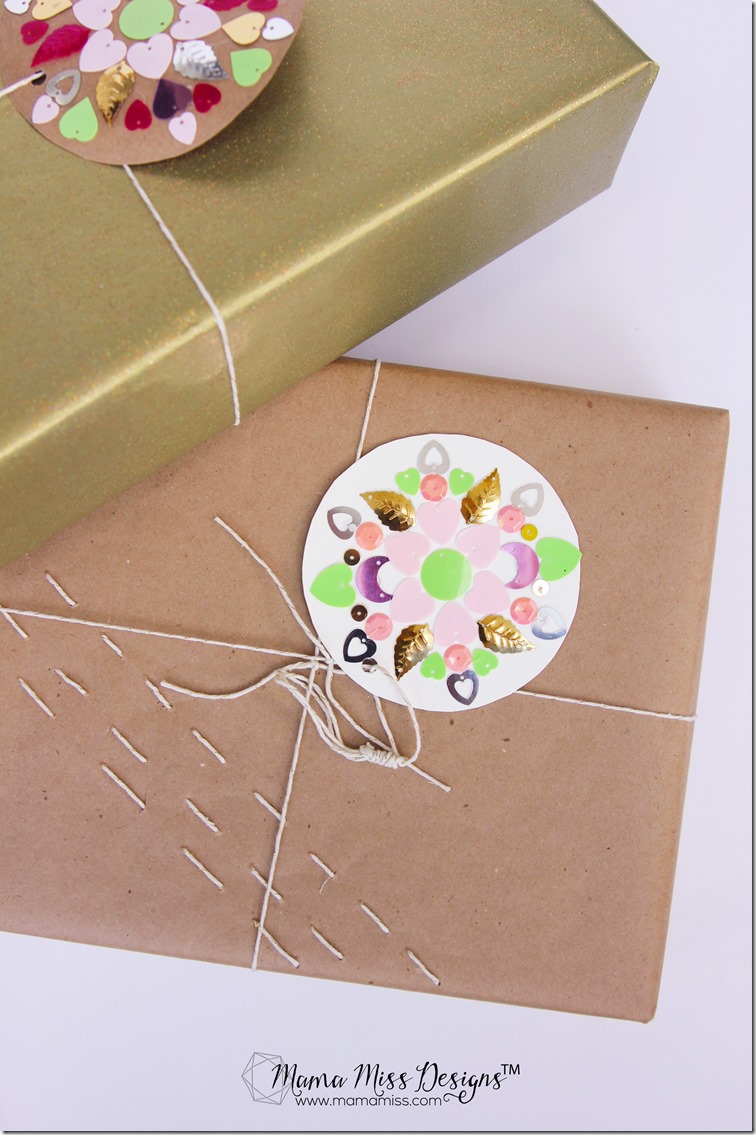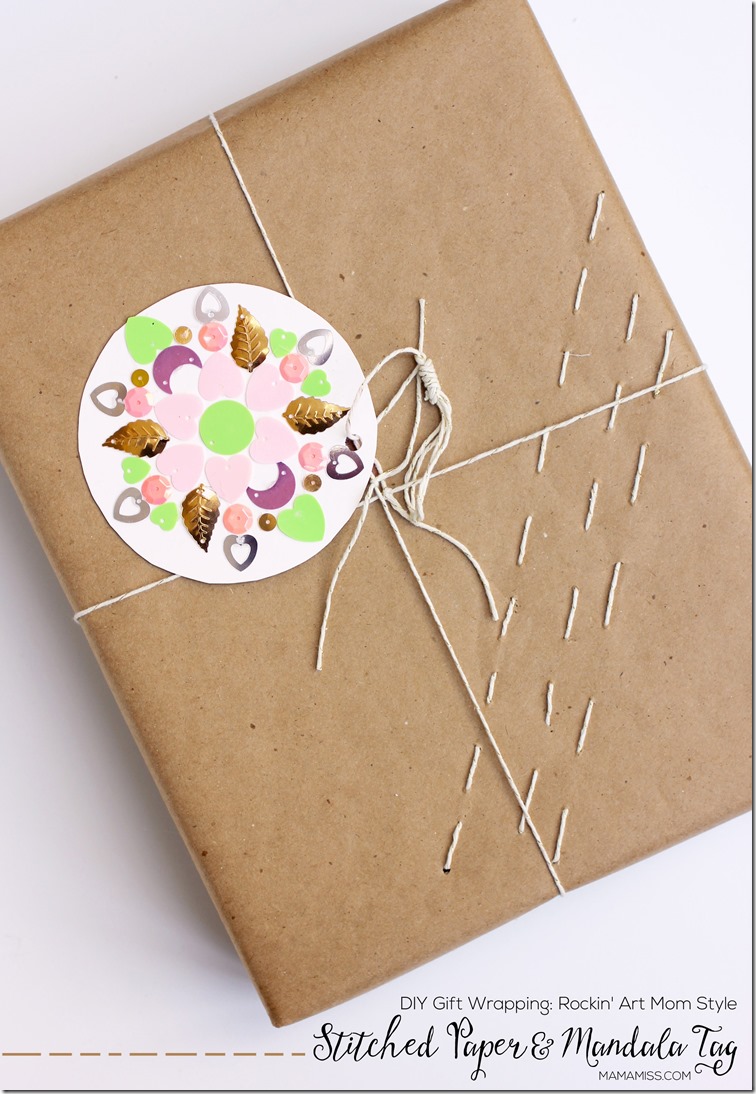 Looking for more Rockin' holiday ideas?
Here's our group Pinterest board for other Rockin' Holiday DIYs!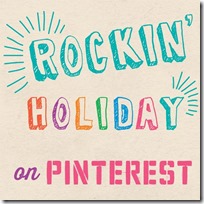 And here are the other phenomenal bloggers in this Rockin' Art Moms series, aptly titled: "DIY Gift Wrapping Rockin' Art Mom Style"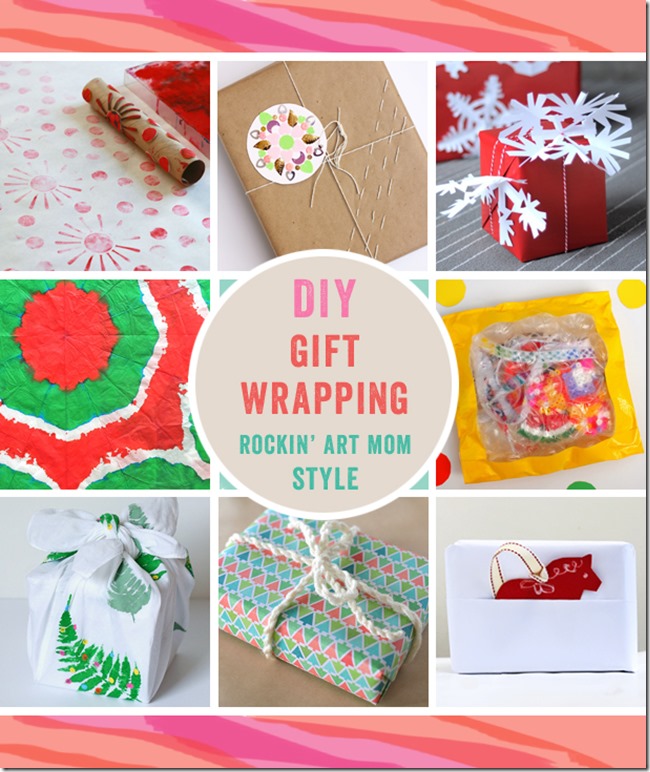 Buggy and Buddy – Furoshiki Fabric Gift Wrap
Art Bar – Printable Christmas Wrap with Braided Rope and Pom Pom
Pink Stripey Socks – Poppable Wrapping Paper
Babble Dabble Do – Tie Dye Gift Wrap
Tiny Rotten Peanuts –  Snowflake Wrapping Paper
Artful Parent – Handmade Wrapping Paper with Foam Stickers
Willow Day – Swedish Horse Wrapping Paper
Meri Cherry – Picture Frame Wrapping Paper
And mine, Mama Miss above :)

♥
Like what you see?!
You can connect with me on:
Pinterest || Facebook || Twitter || Google +
And don't miss any updates…
♥
© Mama Miss. All images & content are copyright protected.
Feel free to share ONE picture and linking directly to this post for download.
Please do not copy directions, ingredients, or pdf files for your own website or Facebook page, visuals or words.
Copying my post partially, or fully, is strictly prohibited.
All work by Mama Miss is licensed under Creative Commons Attribution-NonCommercial-NoDerivs 3.0 Unported License.
♥♥♥
(Visited 1,899 times, 1 visits today)