A yummy Valentine's Day treat without the sugar!  Skip the candy and let a special little someone know you've had your eye on them with a printable DIY I Spy Valentines card.
V&T are a little obsessed with search and find books, mazes, and anything remotely seek-n-find.  So with them in mind I created this fun little DIY for them to give to their little homeschool friends this year. This little DIY I SPY Valentine is so incredibly easy to put together, let me show you how!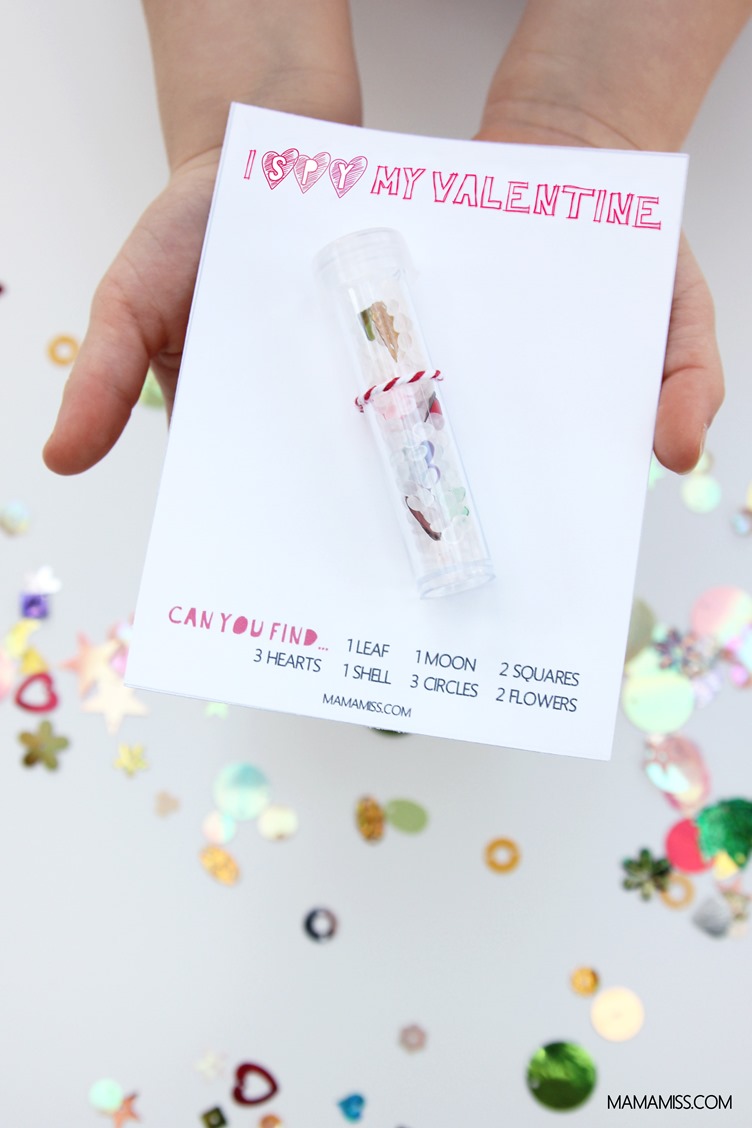 DIY I Spy Valentines
Supplies:
Make it:
So, you can start this one of two ways, you can print out the pre-printed ones I've already filled in for you, with the pre-selected items to find, or you can fill in your own with the editable ones (my first fill-in printable – yay – I'm movin' on up ;)!
Choose your spangles, don't get too crazy, stick to 9-13 sequins to put in the tube.  If you are creating your own I SPY be sure to write down the sequins you are using (so you don't forget).
Start off with filling the tube with a big pinch of the pellets, then a sequin, then another pinch of pellets, then another sequin… and so on & so on until you use them all.
Don't fill to the top, leave about a half an inch from the top so the contents can shift a little to make the sequins searchable.
Print out the printable and cut out each 4×6 card.  Center and place a sealed tube on each 4×6 card.
While holding the tube onto the card, use the awl to poke a small hole on either side of the tube through the cardstock.
Thread the twine through both holes and knot around the back of the 4×6 card to secure the tube to the front.
Repeat the steps for each tube.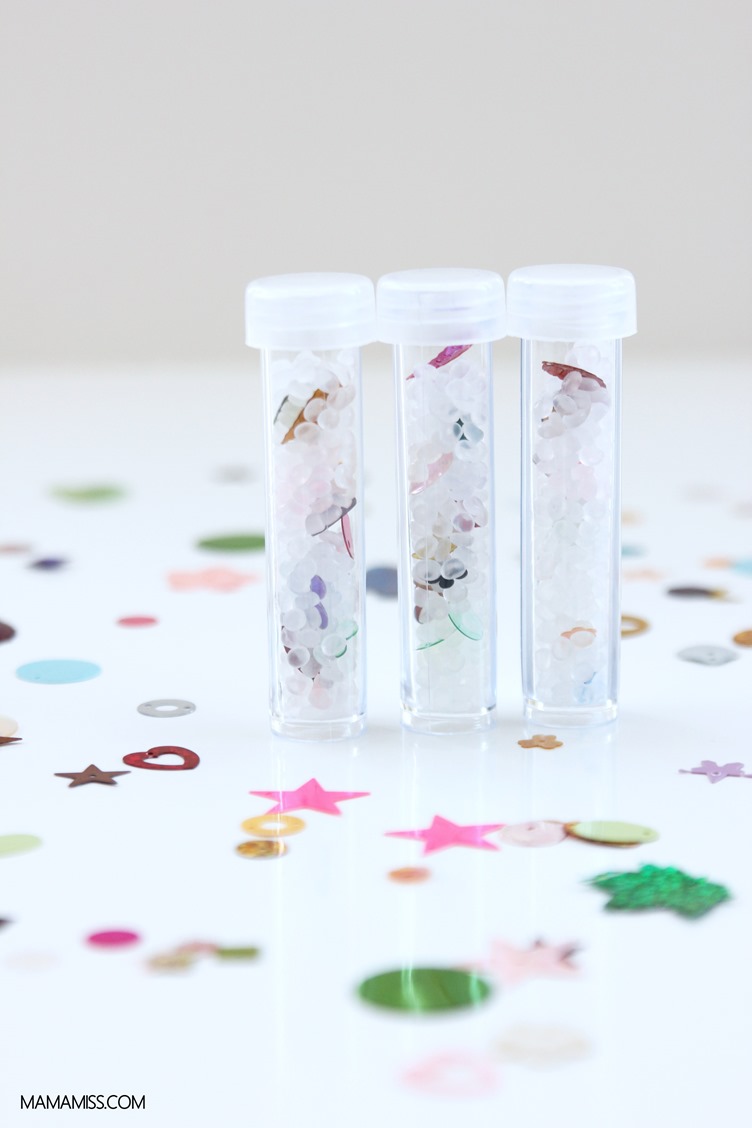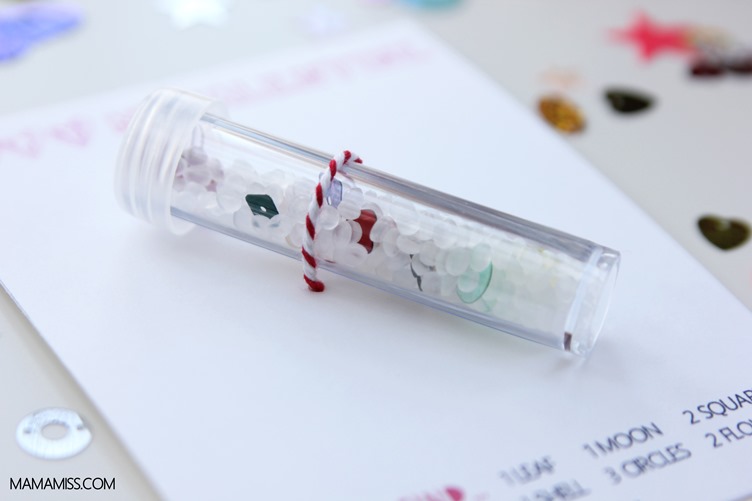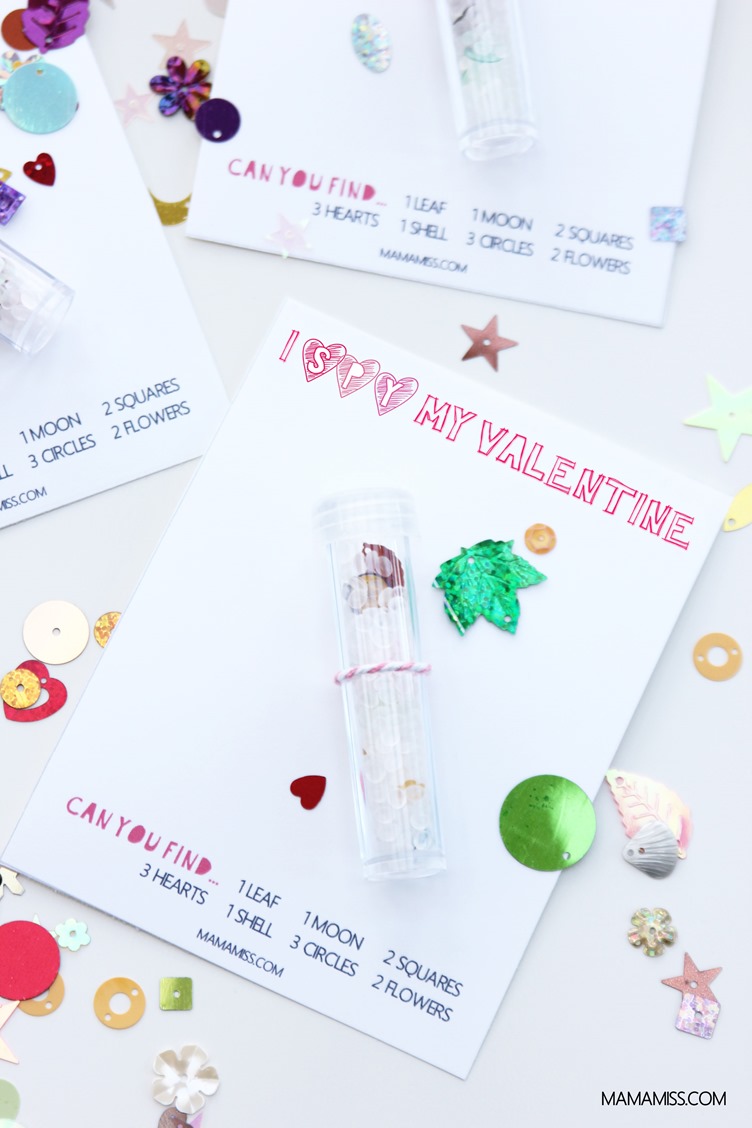 You might also like these DIY Valentine's Day ideas:

INSPIRE OTHERS BY SHARING!!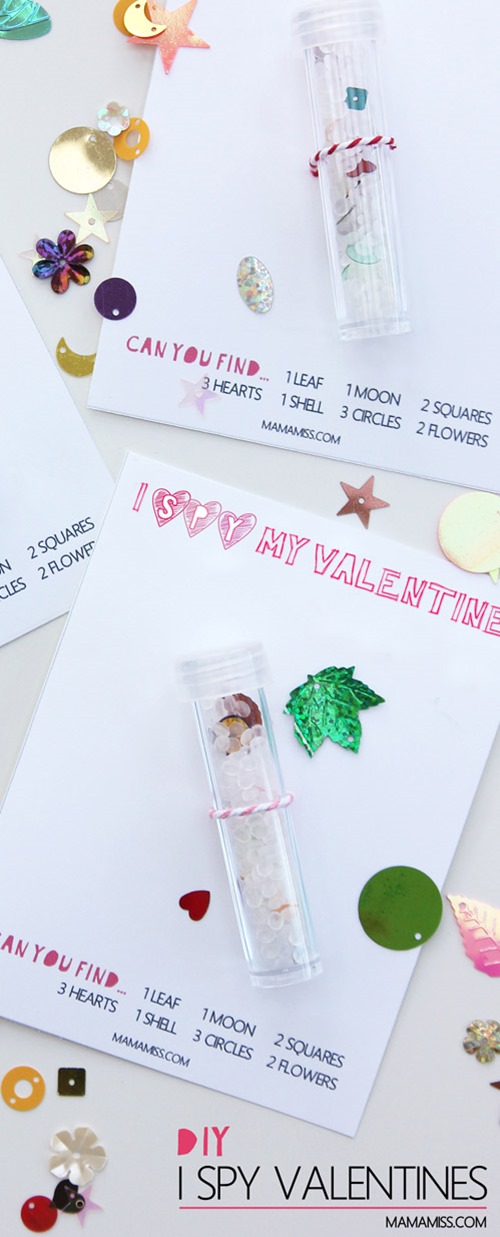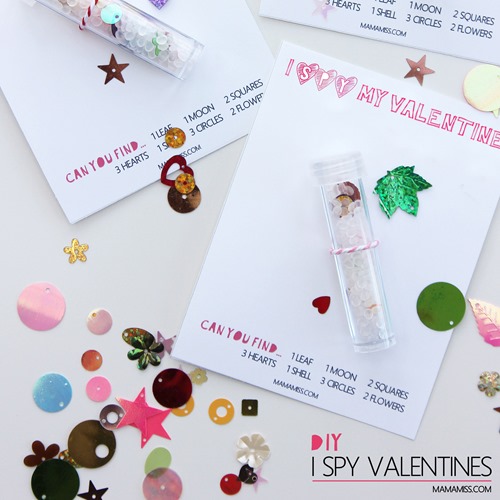 ♥
Like what you see?!
You can connect with me on:
Pinterest || Facebook || Twitter || Google +
see more on my design site too >> Mama Miss Designs
And don't miss any updates, get new posts right away – sign up here…
♥
© Mama Miss. All images & content are copyright protected.
Feel free to share ONE picture and linking directly to this post for download.
Please do not copy directions, ingredients, or pdf files for your own website or Facebook page, visuals or words.
Copying my post partially, or fully, is strictly prohibited.
All work by Mama Miss is licensed under Creative Commons Attribution-NonCommercial-NoDerivs 3.0 Unported License.
(Visited 6,021 times, 1 visits today)