It's that time again friends!  I've started the creation process of the 2015 Blogger Planner, Calendar, & Menu planners!  I will be spend the majority of this month creating these planners for them to debut at the beginning of November!
WOW – can't believe it's that time again!!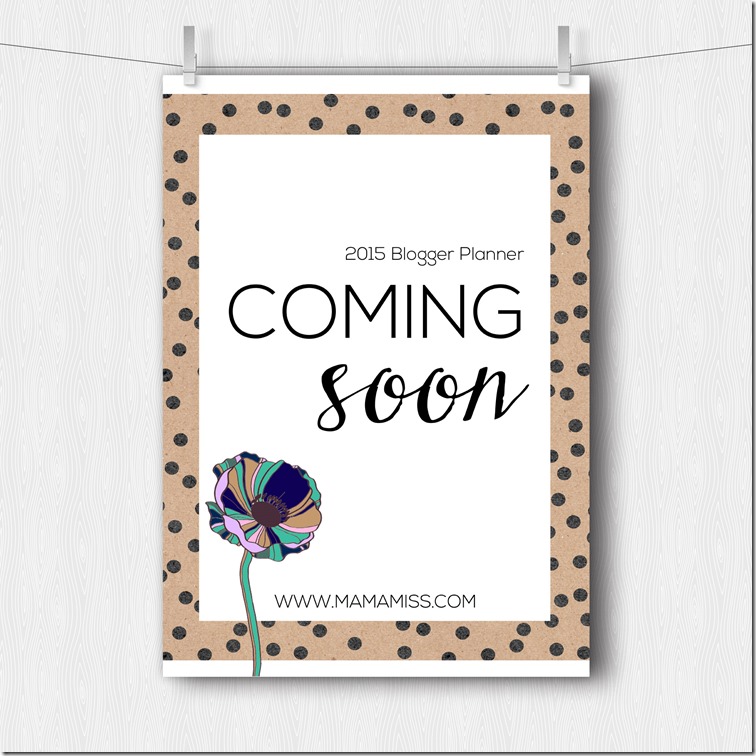 And not to fret if you just bought the mid-year Blogger Planner.  From this point forward I will be publishing a full calendar year Blogger Planner & a mid-year Blogger Planner– so, while I'm creating the 2015 full year one now, I'll be debuting the 2015/2016 mid year one around May 2016.  So, whether you already have the full calendar year or the mid-year – you will have the opportunity to continue with the next one, in order :)
What can you expect in the 2015 Blogger Planner?
Well, all the new sheets I debuted for the mid-year, plus I'm sure there will be a couple more that I've come up with this year as the wheels were turning.
Do you have an idea for a sheet that you'd like to have for the 2015 Blogger Planner?
Was there a part of the 2014 Blogger Planner that needed to be adjusted with an extra column or idea?
I would love your input!! Now, I can't promise everything – but if it fits the majority (because I have to create for the masses – all bloggers – fashion, DIY, mom, lifestyle, foodie, etc.) you may just well see it in the 2015 planner!!
Add your input here.
mwah – thank you, thank you, thank you – I'm so excited to dive in & present to you an amazing 2015 Blogger Planner in November!

♥
Like what you see?!
You can connect with me on:
Pinterest || Facebook || Twitter || Google +
And don't miss any updates…
♥
© Mama Miss. All images & content are copyright protected. Feel free to share ONE picture and linking directly to this post for download. Please do not copy directions, ingredients, or pdf files for your own website or Facebook page, visuals or words. Copying my post partially, or fully, is strictly prohibited.
All work by Mama Miss is licensed under Creative Commons Attribution-NonCommercial-NoDerivs 3.0 Unported License.
♥♥♥
(Visited 668 times, 1 visits today)