I'm kinda' obsessed with the sweet potato lately.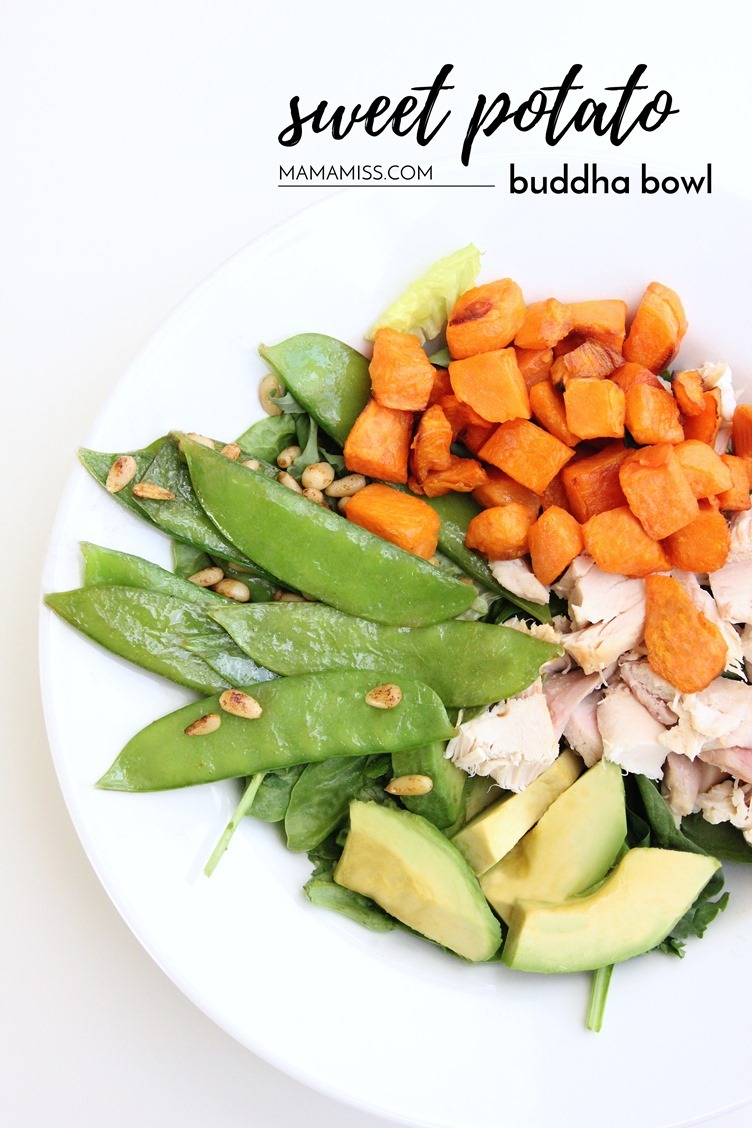 Dude.  I've got Buddha bowls on the brain.  Have you heard of a Buddha bowl before – sometimes called a grain bowl or harvest bowl?  I found this explanation and it pretty much sums it up.  In a nut shell, it started off as a grain bowl but several people have added lean meat, like the chicken I chose, to these vegan grain bowls called Buddha bowls.  Buddha bowls, grain bowls, harvest bowls – whatever you want to call them – they are beautiful, vegetable heavy, colorful bowls filled with whatever makes you feel balanced and happy ;)
Oh, and this Sweet Potato Buddha bowl makes me all kinds of balanced and happy.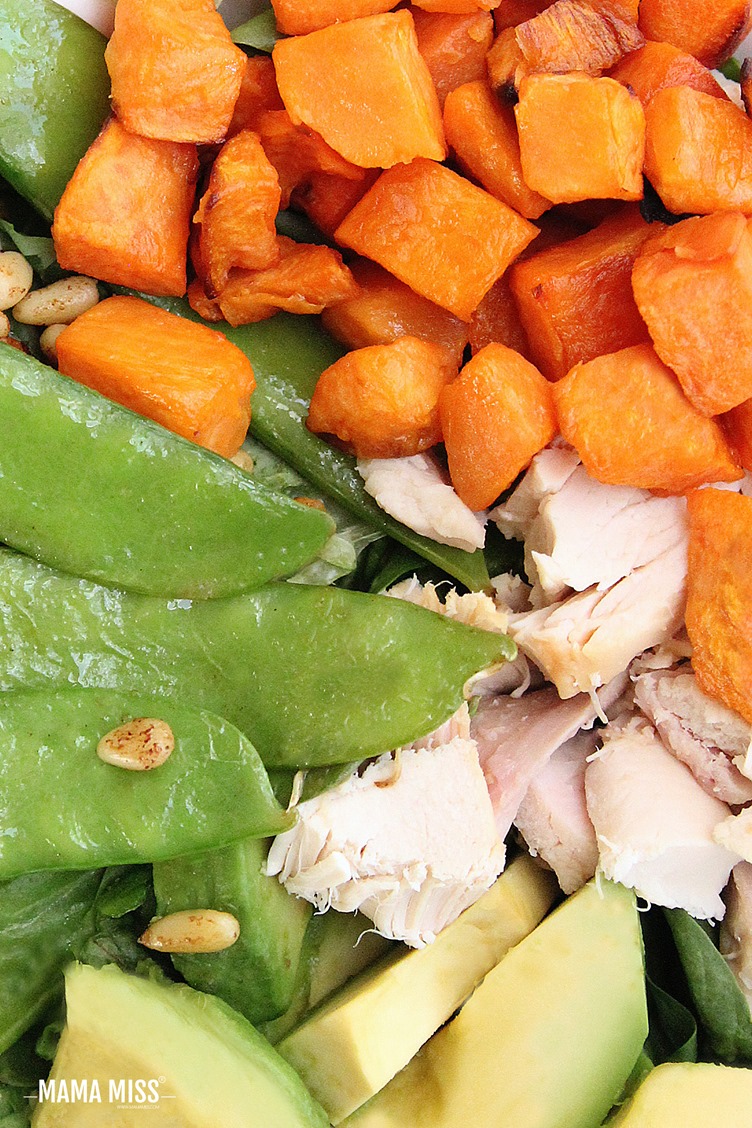 I mean, c'mon – look at that yumminess.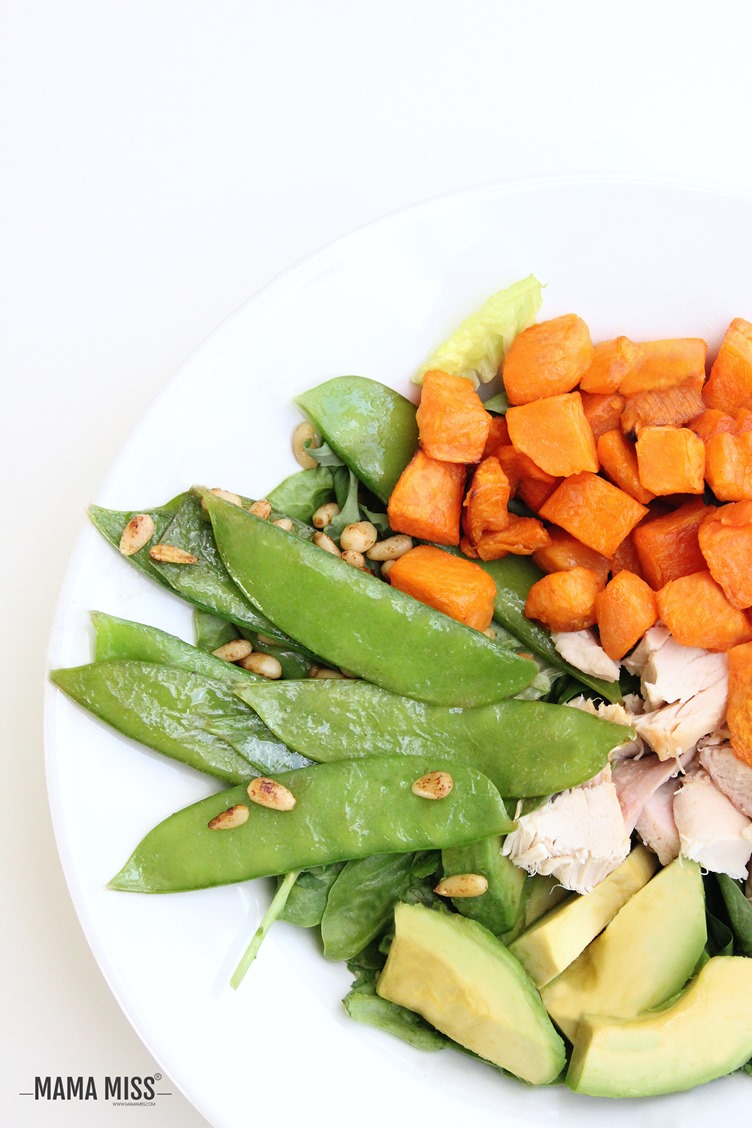 SWEET POTATO BUDDHA BOWLS
This Buddha bowl contains some yummy stuff.  Besides the sweet potatoes, we've got some avocado, spinach, lettuce, snow peas, grilled chicken, and toasted pine nuts.
And, here's the steps on how to make it.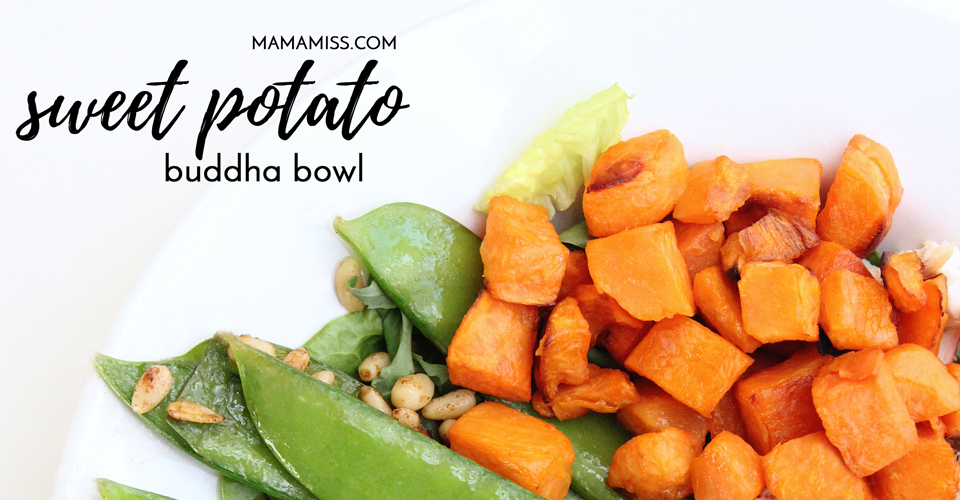 Sweet Potato Buddha Bowl - a healthy and hearty meal that everyone will love!
Ingredients
||
Roasted Sweet Potatoes
16 oz. pre-washed cubed sweet potatoes
1-2 tablespoons olive oil
sea salt & pepper to taste
6 oz. pre-washed snow peas
1 tablespoon olive oil
2 heaping tablespoons pine nuts
1/2 teaspoon sea salt
2 ripe, sliced avocados
Spinach
Lettuce
Pre-cooked cubed (or sliced) grilled chicken (I like to use the pre-cooked whole chicken at Costco)
Instructions
Preheat oven to 425F.
Place the cubed sweet potatoes onto a jellyroll pan.
Drizzle the sweet potatoes with oil, and toss them to make sure they are coated. Spread them out in a single layer, so they brown. Sprinkle with sea salt and pepper.
Bake for 15-20 minutes, flipping them halfway through.
Warm olive oil in large pan over medium high heat.
Add snow peas to the warm pan. Sauté for around 4-5 minutes until the snow peas start to slightly soften.
Add pine nuts and sauté for another couple of minutes. Continue to sauté the snow peas to ensure the pine nuts don't burn.
Sprinkle a dash of sea salt on the snow peas.
Start with the base - create a layer of greens using your spinach and lettuce.
Add the Sautéed Snow Peas & Pine Nuts.
Add the Roasted Sweet Potatoes.
Add the pre-cooked cubed/sliced grilled chicken.
Add the sliced avocado.
Enjoy your yummy Buddha bowl!
https://www.mamamiss.com/blog/2017/04/13/sweet-potato-buddha-bowl/
All rights reserved Copyright 2012-2019 Mama Miss Blog and Designs
So, what do you think – do you have Buddha bowls on the brain now too?
I think you should give them a try because there is more to come, I'm a Buddha bowl maniac my friends.

INSPIRE OTHERS BY SHARING!!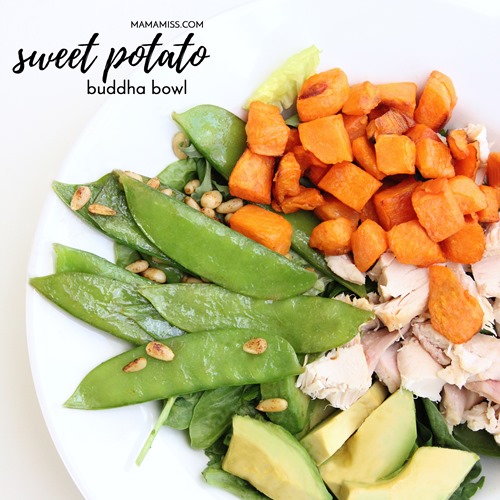 ♥
Like what you see?!
You can connect with me on:
Pinterest || Facebook || Twitter || Google +
And don't miss any updates, get new posts right away – sign up here…
♥
© Mama Miss. All images & content are copyright protected.
Feel free to share ONE picture and linking directly to this post for download.
Please do not copy directions, ingredients, or pdf files for your own website or Facebook page, visuals or words.
Copying my post partially, or fully, is strictly prohibited.
All work by Mama Miss is licensed under Creative Commons Attribution-NonCommercial-NoDerivs 3.0 Unported License.
(Visited 1,268 times, 1 visits today)