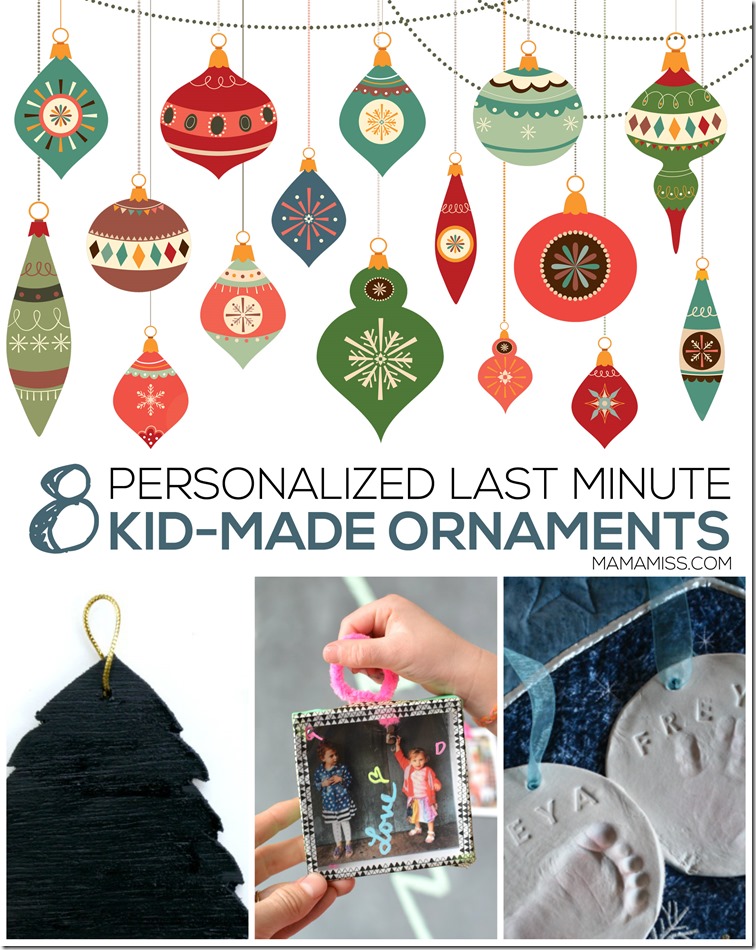 Last minute – check!
Handmade – check!
Personalized – check!
These fab kid-made ornaments can all be made last minute – you still have a couple days to create these beauties ;)
They are all personalized, with kiddo feet, kiddo hands, kiddo messages, & kiddo portraits.
Perfect for gift tags atop grandma & grandpa gifts!!  How tickled would they be to receive one of these on top of their Christmas presents?!
Keep all special thoughts and memories for lifetimes to come. Share these keepsakes with others to inspire hope and build from the past, which can bridge to the future". – Mattie Stepanek
Let's be inspired!
// CHALKBOARD CHRISTMAS TREE ORNAMENT . The Educators' Spin On It
// FAMILY PHOTO SHADOW BOX ORNAMENT . Meri Cherry
// FIRST CHRISTMAS ORNAMENT . Rainy Day Mum
// FELT PENGUIN FOOTPRINT ORNAMENT . True Aim
// PHOTO DREAM SNOW ORNAMENT . Lovely Commotion
// AN ANGEL LIKE ME PHOTO ORNAMENT . Kid World Citizen
// PAINT CHIP JOURNAL ORNAMENT . Handmade Kids Art
// HANDPRINT/FOOTPRINT KEEPSAKE ORNAMENT . Living Montessori Now
Which one will you make?
Looking for more kid-made ornaments?
See the whole line up here – 72 kid-made ornaments to be exact!
There is also the week one roundup – 36 kid-made ornaments & the week two roundup – another 36 kid-made ornaments from the entire series!

♥
Like what you see?!
You can connect with me on:
Pinterest || Facebook || Twitter || Google +
And don't miss any updates…
♥
© Mama Miss. All images & content are copyright protected.
Feel free to share ONE picture and linking directly to this post for download.
Please do not copy directions, ingredients, or pdf files for your own website or Facebook page, visuals or words.
Copying my post partially, or fully, is strictly prohibited.
All work by Mama Miss is licensed under Creative Commons Attribution-NonCommercial-NoDerivs 3.0 Unported License.
♥♥♥
(Visited 1,013 times, 1 visits today)