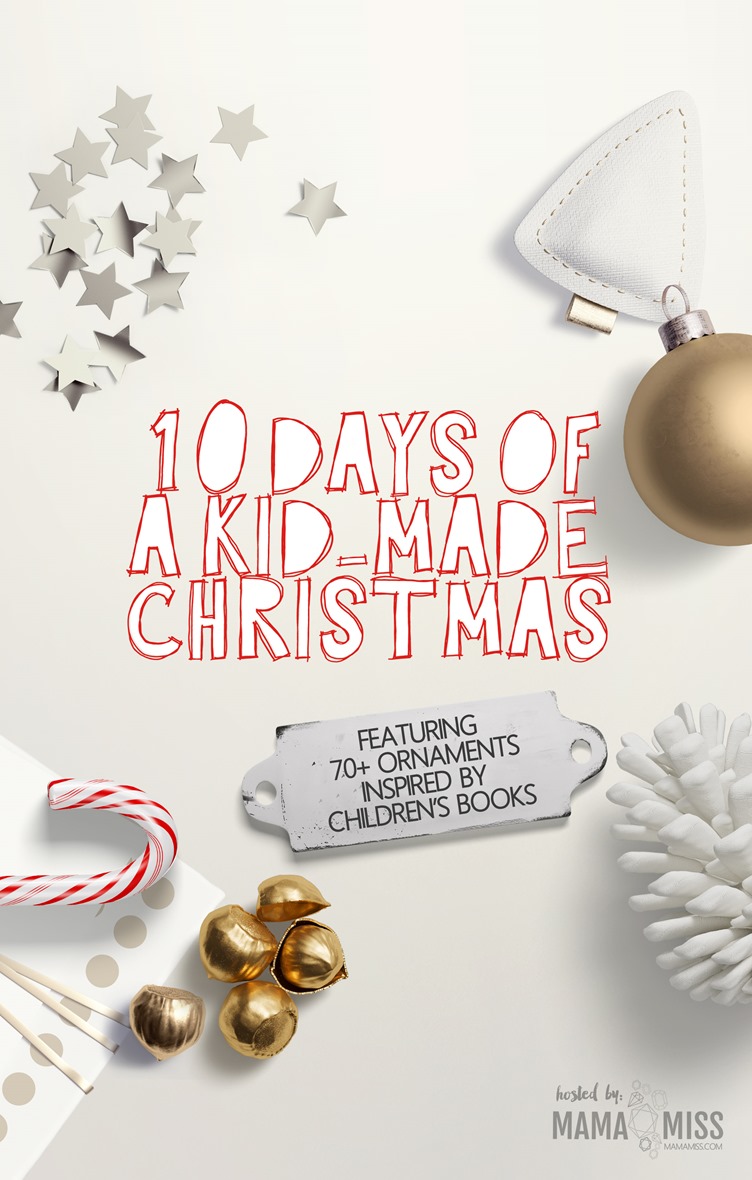 Hey there friends!!  It's that time of year again!
10 days of ALL KID-MADE ORNAMENTS – year THREE!  Woah – can ya believe this is the 3rd year?!  That's a whole lot of ornaments for you!
Here's the detailed list from 2013 – 57 Kid-Made Ornaments (LEFT).  And the last year's (which is the same theme as this year's) – 70+ Kid-Made Ornaments inspired by Children's Books (RIGHT).
Just click on each picture to see all those KID-MADE ORNAMENTS from past years!
So, like last year – we are using children's books as our inspiration! My heart is swooning just a little.
We have seventy plus bloggers, each making a fun little ornament with their kiddos, inspired by a kid's book & providing us a tutorial to make one too – wahooo!
So starting this Friday, November 27th, I'll be kicking off this series of fabulousness with an all new kid-made ornament inspired by one of our favorite books.  I so can't wait for the start of this series (either can V&T)… BOOKS ANNNNNND CHRISTMAS… can it get any better?!  I think not!

What do you need to do?
Well, nothing, except to check back here, the landing page, for all the fantastic kid-made ornaments.
I'll be linking them up there as they go live on their scheduled date.
Plus!!  You can join in on the fun too, if you are a blogger.
Here's how:
1. Just link a KID-MADE ornament INSPIRED BY A CHILDRENS BOOK, that you've created with your kiddos. (Q: What's kid-made? A: Well, it must be made by your kiddos, or with some mama help, just not totally mama-made).
2. Add this pretty little image here (or the one above – or the one below) to your blog post, or your sidebar, or somewhere on your beautiful blog letting me know you are joining in on the fun too!!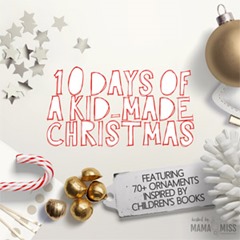 3. Label it: 10 Days of a Kid-Made Christmas
4. Link it to: my landing page any time between Monday November 30th until Thursday December 10th.
Questions?  Just shoot me an email from my contact page.

So, here are all the super fab bloggers we have lined up for this series… eeeek – are you ready?!
Monday November 30th
Miss Mae's Days :: THE GINGERBREAD MAN (1)
Housing A Forest :: A CHARLIE BROWN CHRISTMAS (2)
The Educators' Spin On It :: BEAR STAYS UP FOR CHRISTMAS (3)
Wise Owl Factory :: THE CARPENTER'S GIFT (4)
Simply Vicki :: PARIS: A BOOK OF SHAPES (5)
Growing Book by Book :: GINGERBREAD MAN LOOSE AT CHRISTMAS (6)
Handmade Kids Art :: THE SNOWY DAY (7)
STEAM Powered Family :: CHICKA CHICKA BOOM BOOM (8)
The Craft Train :: RAINBOW MAGIC FAIRIES (9)
HEN Family :: PAPA, PLEASE GET THE MOON FOR ME (10)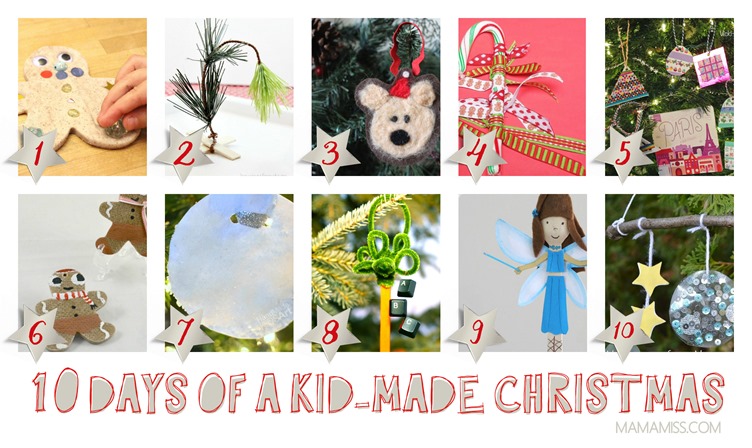 Tuesday December 1st
Artsy Momma :: RAINBOW FISH (1)
Heart of Deborah :: THE PINE TREE PARABLE (2)
Fireflies and Mud Pies :: RICHARD SCARRY'S THE ANIMALS' MERRY CHRISTMAS (3)
Sugar Aunts :: LITTLE TREE (4)
Mama Miss :: THE LITTLEST EVERGREEN TREE (5)
Mum in the Mad House :: LITTLE ROBIN'S CHRISTMAS (6)
See Vanessa Craft :: THE VERY HUNGRY CATERPILLAR (7)
Inspired by Familia :: SANTA'S FAVORITE STORY (8)
My Bored Toddler :: MUDDY PAWS (9)
Rhythms of Play :: THE CHRISTMAS WISH (10)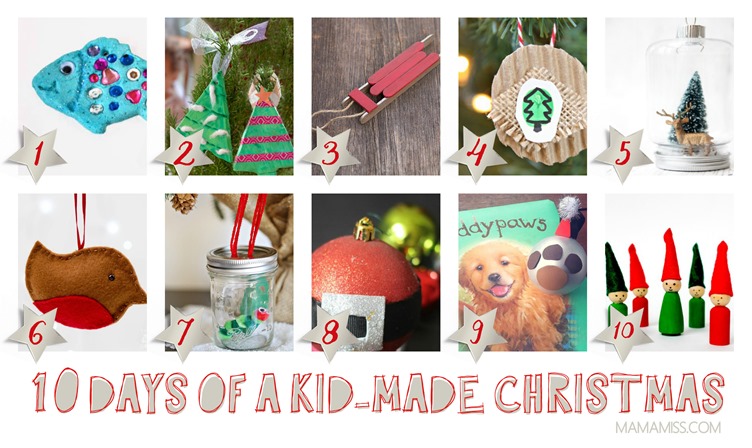 Wednesday December 2nd
A Little Pinch of Perfect :: GINGERBREAD BABY (1)
What Do We Do All Day? :: THE TOMTEN (2)
The Life of Jennifer Dawn :: OLD BEAR AND HIS CUB (3)
Adventures of Adam :: NORMAN THE SLUG WHO SAVED CHRISTMAS (4)
Mama Smiles :: SNOWMEN AT CHRISTMAS (5)
One Time Through :: JUST RIGHT FOR CHRISTMAS (6)
Buggy and Buddy :: CORDUROY (7)
Kitchen Floor Crafts :: THE MITTEN (8)
Montessori Nature :: THE STORY OF THREE WISE KINGS (9)
Happy Brown House :: MERRY CHRISTMAS MOM AND DAD (10)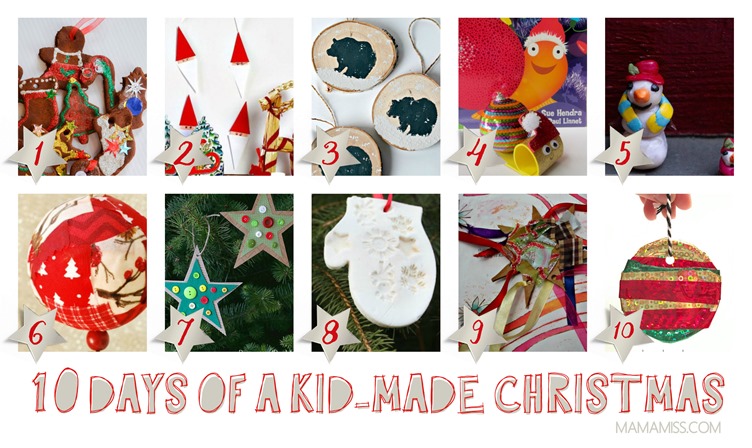 Thursday December 3rd
Peace but Not Quiet :: FANTASTIC MR. FOX  (1)
Glittering Muffins :: DINOSAUR CHRISTMAS (3)
 Kids Craft Room :: PENGUIN (4)
My Bright Firefly :: UNI THE UNICORN (5)
Easy Peasy and Fun :: ITSY BITSY SNOWMAN (6)
 The Resourceful Mama :: POLAR EXPRESS (7)
Living Life and Learning :: THE BIG SNOW (8)
 Something 2 Offer :: CORDUROY'S CHRISTMAS SURPRISE (9)
 The Eyes of a Boy :: THE NIGHT BEFORE CHRISTMAS (10)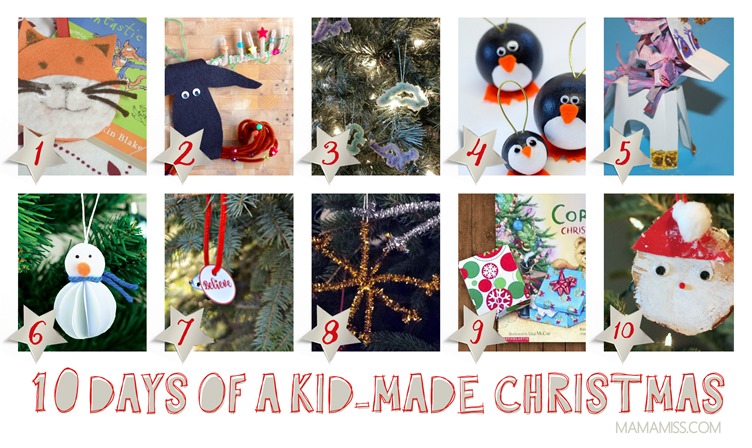 Friday December 4th
The Educators' Spin On It :: SANTA'S BOOK OF NAMES (1)
Castle View Academy :: ELLA BELLA BALLERINA AND THE NUTCRACKER (2)
 Left Brain Craft Brain :: RUDOLPH THE RED NOSED REINDEER (3)
House of Burke :: THE THING ABOUT YETIS (4)
Emma Owl :: GUESS HOW MUCH I LOVE YOU? (5)
Freshly Planted :: OWL MOON (6)
Great Googa Moogas :: ROOM ON THE BROOM (7)
Adventures in Wunderland :: HOW THE GRINCH STOLE CHRISTMAS (8)
The Natural Homeschool :: SECRETS OF THE RAIN FOREST (9)
Non Toy Gifts :: EVERYBODY BONJOURS! (10)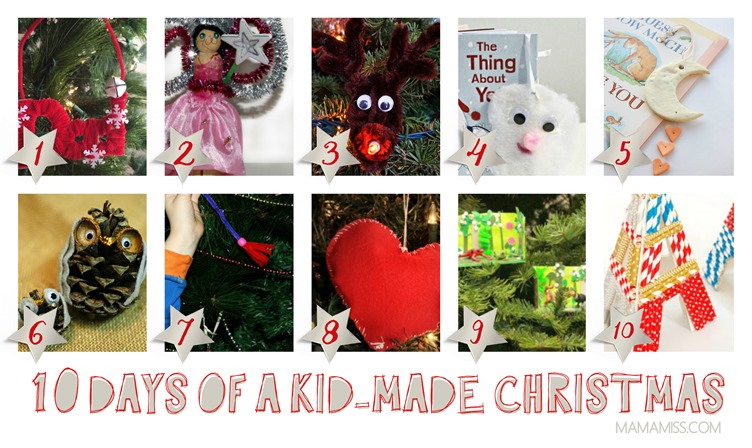 Monday December 7th
Happy Brown House :: THE CARPENTER'S GIFT (1)
Mosswood Connections :: AUNTIE CLAUS (2)
Lemon Lime Adventures :: HARRY POTTER (3)
Sunshine Whispers :: SWIM SWIM (4)
Babble Dabble Do :: THE MITTEN (5)
Modern Preschool :: SILENT NIGHT: MY FIRST NATIVITY STORY (6)
Lemon Lime Adventures :: PERCY JACKSON (7)
Edventures with Kids :: A HOMEMADE TOGETHER CHRISTMAS (8)
Preschool Powol Packets :: HOW BIG IS A MILLION? (9)
Glittering Muffins :: DINOSAUR CHRISTMAS (10)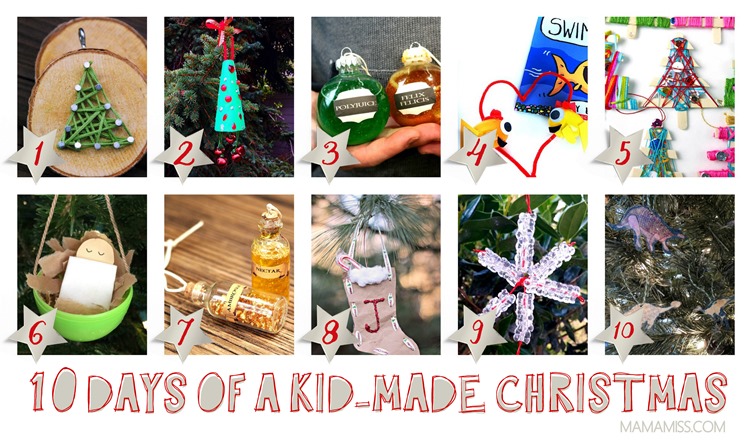 Tuesday December 8th
Kitchen Counter Chronicles :: SANTA MOUSE (1)
Flash Bugs Studio :: COCO AND THE LITTLE BLACK DRESS (2)
My Bright Firefly :: THE CHRISTMAS STORY (3)
Creative World of Varya :: CHRISTMAS IN THE NEW HOUSE (4)
Cutting Tiny Bites :: PINKALICIOUS: MERRY PINKMAS (5)
Messy Little Monster  :: HOW TO CATCH A STAR (6)
Living Montessori Now :: THE VERY HUNGRY CATERPILLAR'S CHRISTMAS 123 (7)
Little Bins For Little Hands :: THE POLAR EXPRESS (8)
Artsy Craftsy Mom :: ANGELS (9)
Planet Smarty Pants :: HOW THE RUSSIAN SNOW MAIDEN HELPED SANTA CLAUS (10)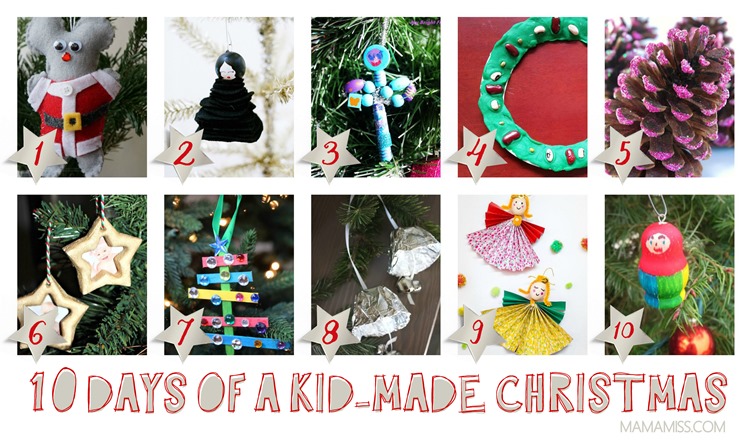 Wednesday December 9th
Bambini Travel :: THE CARPENTER'S GIFT (1)
 Sunny Day Family :: IF YOU TAKE A MOUSE TO THE MOVIES (2)
The Soccer Mom Blog :: THE SWEET SMELL OF CHRISTMAS (3)
Witty Hoots :: HERE COMES JACK FROST (4)
Arty Crafty Kids :: ELMER'S CHRISTMAS (5)
Zing Zing Tree :: THE KISS THAT MISSED (6)
Books and Giggles :: LLAMA LLAMA HOLIDAY DRAMA (7)
Glue Sticks & Gumdrops :: ANOTHER MONSTER AT THE END OF THIS BOOK (8)
Happily Ever Mom :: NANA UPSTAIRS, NANA DOWNSTAIRS (9)
CraftCreateCalm :: MOUSE'S FIRST CHRISTMAS (10)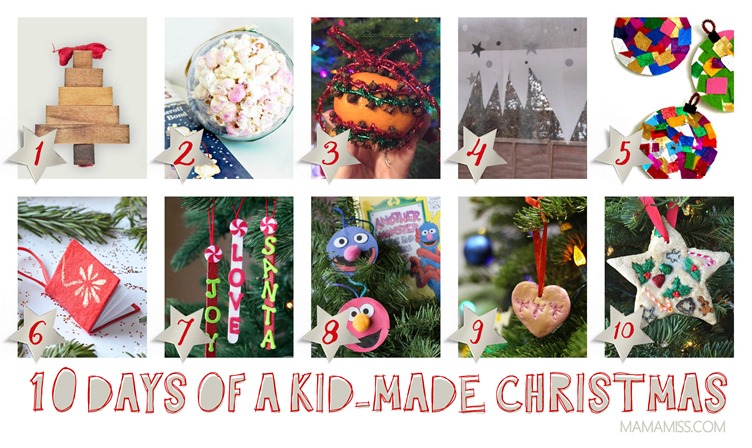 Thursday December 10th
A Sip of Southern Sunshine :: TINY BABY JESUS (1)
Here Come the Girls :: SNOWMEN AT NIGHT (2)
Smart Tinker :: MY ALPHABET PLAYBOOK (3)
Rainy Day Mum :: THE NUTCRACKER: A MAGIC THEATER BOOK (4)
Peakle Pie :: BIG BEAR, LITTLE BROTHER (5)
Crafty Mama in Me :: POLAR EXPRESS (6)
Teach Beside Me :: A CHRISTMAS BELL FOR ANYA (7)
Play Dough & Popsicles :: THE MITTEN (8)
Fun-A-Day :: HOW THE GRINCH STOLE CHRISTMAS! (9)
The Library Adventure :: I AM BLOP! (10)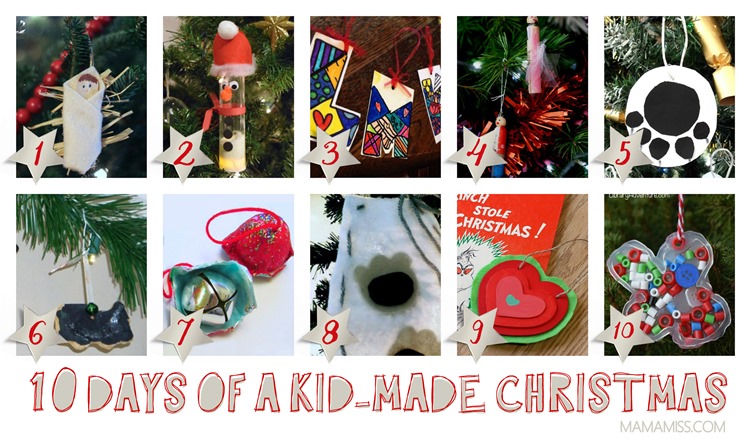 So, check back this Friday (11/27) for the kickoff of the series – V&T are very excited to show you our ornaments!!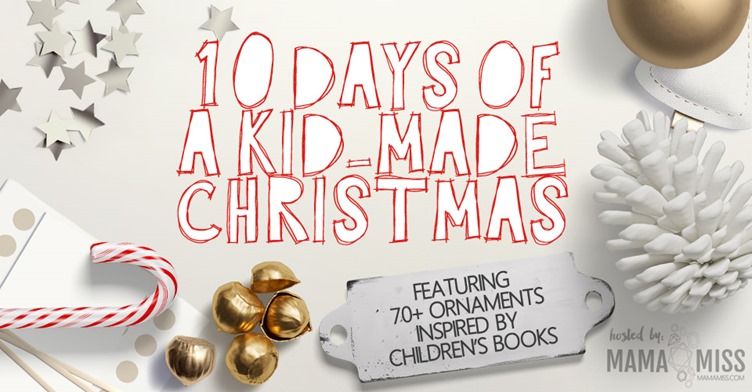 INSPIRE OTHERS BY SHARING!!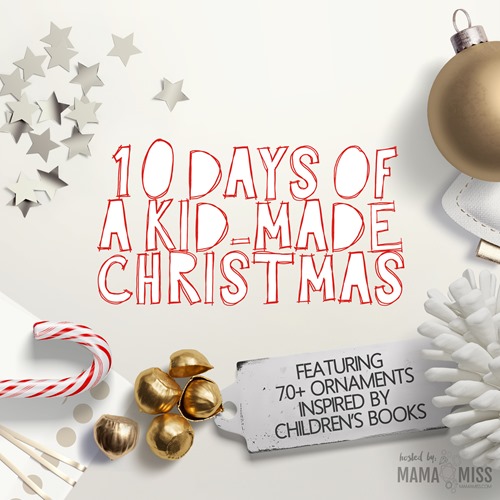 ♥
Like what you see?!
You can connect with me on:
Pinterest || Facebook || Twitter || Google +
And don't miss any updates, get new posts right away – sign up here…
♥
© Mama Miss. All images & content are copyright protected.
Feel free to share ONE picture and linking directly to this post for download.
Please do not copy directions, ingredients, or pdf files for your own website or Facebook page, visuals or words.
Copying my post partially, or fully, is strictly prohibited.
All work by Mama Miss is licensed under Creative Commons Attribution-NonCommercial-NoDerivs 3.0 Unported License.
(Visited 17,951 times, 1 visits today)