I'll let ya in on a little secret – my tips on how I save money on all things "kid" twice a year – kid consignment sales!  I'm always telling anyone who will listen about them, even you guys!  I've even mentioned several times before here, here, & here about my consignment snags.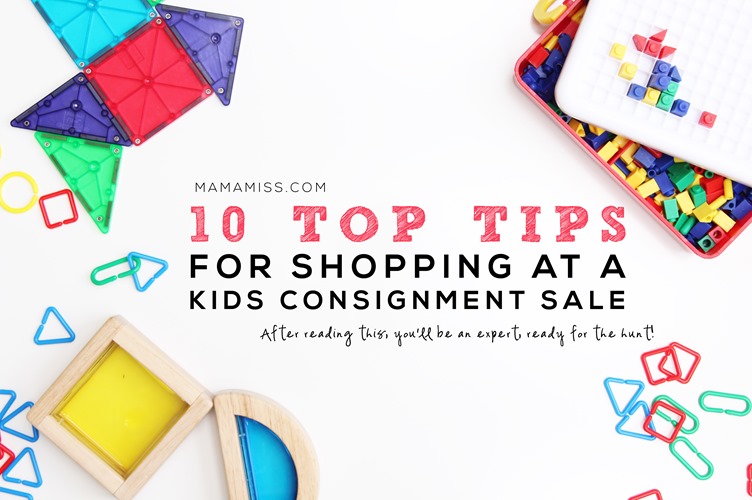 So, I consider myself a kids consignment sale expert.  Some people laugh at my crazy, some people think it's over the top, some people look at me in line and think I'm ridiculous.  But I'll tell ya what, when they are standing in line drooling at the AWESOME stuff they didn't get, they finally "get" my crazy!
I've got some an amazing things over the past 5 years I've been doing these sales.  I am a die hard consignment sale girl, peeps.  Locally I'm involved in four sales, the two bigger ones I consign, volunteer, & shop at.  The smaller two I volunteer & shop at (it's too much to change tags for every sale).
Every season V&T get a giant wardrobe of Hanna Andersson, Gap, LL Bean, Mini Boden, Gymboree (and many more) and I pay a fraction, like a fraction of a fraction, for them.  Basically, for everything I buy to fill their closets every season from consignment, it would afford me probably 1 item retail (for those brands) for the same amount of money.  It's insane & so addictive to get such stellar items so cheaply.  (BTW – EVERYTHING you see in my staged post picture up there – all from consignment, friends – all uber expensive retail, all purchased for a couple of dollars).
So, want in on the good stuff?  Been to a consignment sale & haven't found awesomeness such as this?  Here are my tips, I'm spilling them!  You will be a ROCKSTAR consignment shopper in no time!!
It's TOTALLY like your my in-line consignment sale BFF for the next 5 minutes, K?!
Here are my Top 10 Tips For Shopping At A Kids Consignment Sale.
#1. Bring a list
It's so easy to get distracted by the deals & all the "glittery" things you "need" to have.
I shop my needs first, and shop for them in the order of what they have the least of variety in at that sale.  For example, most sales I attend have less clothes for T, he's a 5T boys size, than they do for V, she's a 7/8 girls size – so I head to 5T boys first, then to 7/8 girls.  See below (after #10) for a fun shopping list I made for you to print out & bring with you so you DO NOT veer off course ;)
#2. Bring a cart, and or shopping bags
This is a must!  Some sales have them, like the basic Ikea ones, but I can't stand those – you fill them to the brim and then they open up & fall over – ugh!!  I usually use these giant reusable bags I got at IKEA ions ago – they're huge & super efficient, this is very similar, so is this, size wise.   The main thing you want is something that will stand upright next to you as you are shopping, that you can toss things into easily. But recently I've upped my game & finally got one of these babies!  I've seen people with these carts, but the problem with these are, unless you have a liner, things fall through easily – you don't want that.
#3 Bring tools
Okay, so what do I mean by tools?  Well, this is what is in my arsenal.  A medium cross-body bag (cross-body because you can be hands-free!!) with; Scissors, Painters Tape, Calculator (not solar), Small Notepad, & a Pen.  I'll explain why ;)
Hmmm how do I say this?  Breaking news alert – some people lie, especially sellers at consignment sales.  Now it may not be intentional, maybe said kiddo told said mom that all the pieces were there & mom didn't double check – who knows.  It is my job to check, heck I'm paying for it!  I am not joking when I say this – I WILL OPEN a taped puzzle box of 1000 pieces to make sure they are all there.  I totally will – how bummed would you be to put that whole puzzle together & it's missing a dang piece?!  Super bummed!  I've been burned in the past MANY times – ALWAYS ALWAYS ALWAYS open the box (that's what your scissors are for so you can make a nice little seam cut, on the tape & you're not jacking someone's box up if you don't end up getting it).  And, here's where the tape comes in – tape the box back up, folks.  Even if you ARE buying it – tape it – believe me when I say this – you do not want 1000 puzzle pieces at the bottom of your shopping bag wondering if you lost one along the way (true story lol).  And use painters tape to tape back up the merchandise, please be respectful of other people's items they are trying to sell – painters tape is universal & won't destroy whatever it is that you are taping up (packing tape & duct tape will destroy the package).  The calculator, notepad, & pen are for my tally's at the end, so that I know where I stand in spending.  Don't depend on your phone – use a real calculator, and not a solar one where you have to depend on the lighting to add it all up.
#4 Bring a phone charger
Yep, your cell will inevitably die.  I promise you this.  Usually bigger sales are in some giant warehouse with limited cell service, in which the service they do have, drains your battery in like, 2 hours.  Or my new best friend, a portable cell charger, you can bring it too for even more backup juice :)
#5 Bring sustenance
Add a bottle of water & power bar (or two) to your cross-body bag arsenal when you pack it.  10am will turn into 3pm in a split second and you will be dying of hunger & thirst!  Pack a snack – you won't regret it, I promise.
#6 Grab & go
Don't take the time to saunter through the clothes or merchandise and ponder the existence of life.  Grab & go.  If you like it, put it in your bag, you can review it later, and put it back if you don't want it.  If you hesitate, the person right behind you will grab it instead.  Quick quick quick.  Go go go.
#7 Get there early
I told you I'm die hard, didn't I?!  Depending on the sale I will get there at least 1 hour before the sale doors open.  Some sales I'm there an hour and a half before they open – I haaaaave to be first one or one of the first ones in line!  The early bird gets the worm, or in this case – the good stuff!!  There is always volunteering too – most sales allow you to shop earlier than the masses if you volunteer and/or consign.
#8 Inspect your items thoroughly
I already told you how I go through each and every puzzle, game, toy, etc.  I also look at each piece of clothing – front, back, hems, knees for stains, discoloring, tears, etc.  After you've finished your shopping, park your cart or bags in a comfy spot, in a well lit area, and go through everything one by one.  Look up items online, on the brand's websites for how many pieces are supposed to come with the card game, or toy set.  A lot of toys you will not find in their original packaging (it's consignment, not retail & most normal people don't save their original packaging – lol I'm not normal BTW ;), it's always good to check that all the pieces are there, especially if you are unfamiliar with the item.
#9 Check prices
Are you getting a deal?  Check Amazon to see if the price is indeed lower than getting it new or in better condition there (this is where your phones comes in & why you need it charged!).
#10 Yes, No, Maybe
While you are sorting, separate your items into three piles; yes, no, maybe.  Save the maybe's for the very end and add on or put back depending on how much you've spent already.
So can ya hang with me at the next sale?!  I'm ready, are you? ;)
And here is the FREE printable shopping list – just enter your name & email and I'll send ya the downloadable link straight away to your inbox – BAM – just like that!


INSPIRE OTHERS BY SHARING!!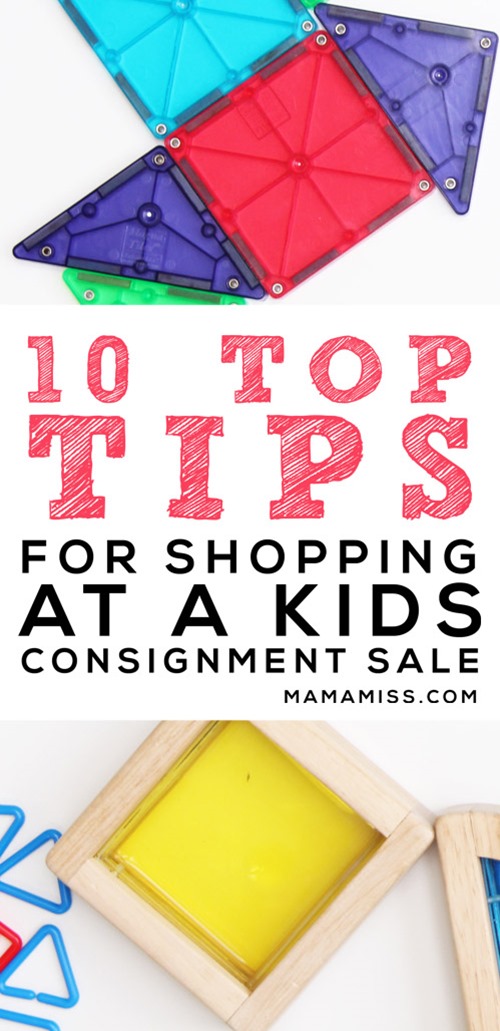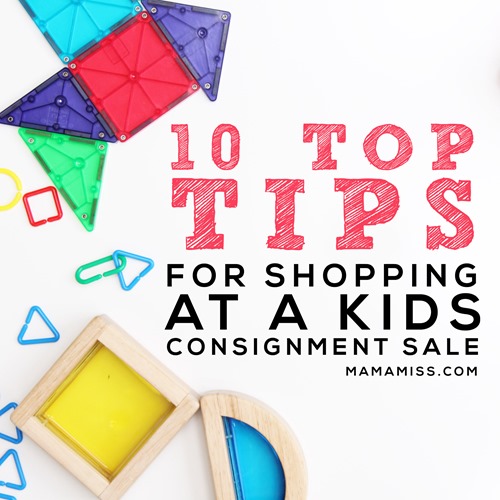 ♥
Like what you see?!
You can connect with me on:
Pinterest || Facebook || Twitter || Google +
And don't miss any updates, get new posts right away – sign up here…
♥
© Mama Miss. All images & content are copyright protected.
Feel free to share ONE picture and linking directly to this post for download.
Please do not copy directions, ingredients, or pdf files for your own website or Facebook page, visuals or words.
Copying my post partially, or fully, is strictly prohibited.
All work by Mama Miss is licensed under Creative Commons Attribution-NonCommercial-NoDerivs 3.0 Unported License.
(Visited 1,984 times, 1 visits today)