If you haven't guessed by reading previous posts, I adore Kool-Aid, not for the usual drinking purposes (I have NEVER in my life had Kool-Aid (and no, not even as a child…and that's a whole other post – HA – let's just say our Easter Bunny was called the health-food bunny for a reason…annnnnnd just one word for you "carob") (side note: I picked that link for the description of carob because of the first sentence, I am a product of the seventies…and the way the article started I literally spit my drink out…maybe it was secretly written by one of my siblings ;) Anywho…sidetracked again…you need to keep me on topic here or I could type all day about everything and nothing!
Like dyeing rice with the Kool-Aid, the play-doh also offers up very vibrant colors as well as a pleasant scent.  I've tried making the play-doh with food coloring & flavoring extracts and the consistency was not as soft as dyeing it with the Kool-Aid, plus, I feel it lasts longer (about 2-3 months, depending on how often it is played with).  The consistency of the Kool-Aid version stays soft over time while the consistency of the food coloring & flavoring extracts version gets crumbly over time.
And here's the recipe :)
Terms and Conditions
The above post allows a free printable PDF download, you will need Adobe Reader to do so.  It is free to download at Adobe's website here.
Please read here before you download any of mama miss's PDF files…thanks, man!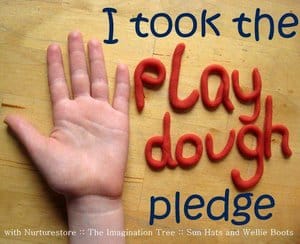 (Visited 1,649 times, 1 visits today)