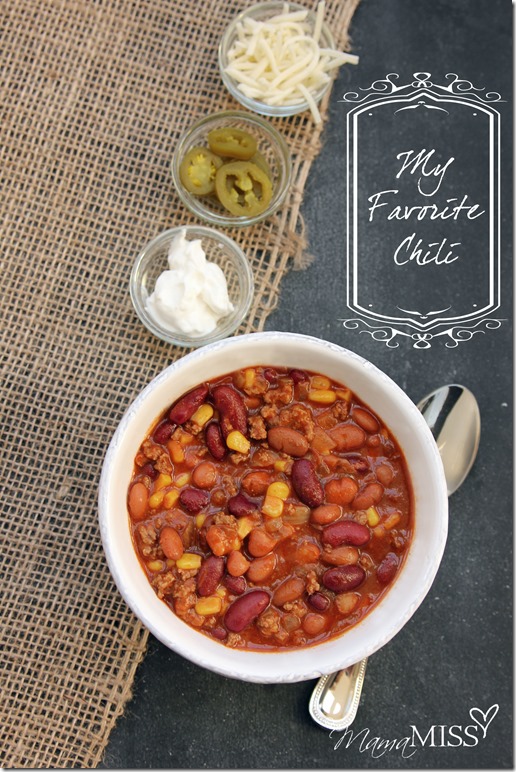 What wonderful fall weather.  The crisp evenings.  The leaves falling.  The pumpkins.  I love it all!
One of my favorite things about fall is the food.  I can just smell the pumpkin spice lattes, hearty stews, and chili.  Oh, the chili!
This recipe is my absolute FAVORITE chili recipe for two reasons.
one – it's so simple & easy.
two – it's yummy and classic.
mmm-m'mmm-mmm-m 
And, once you read the how-to below & the ingredient list, you will be simply astonished by how easy this is to make.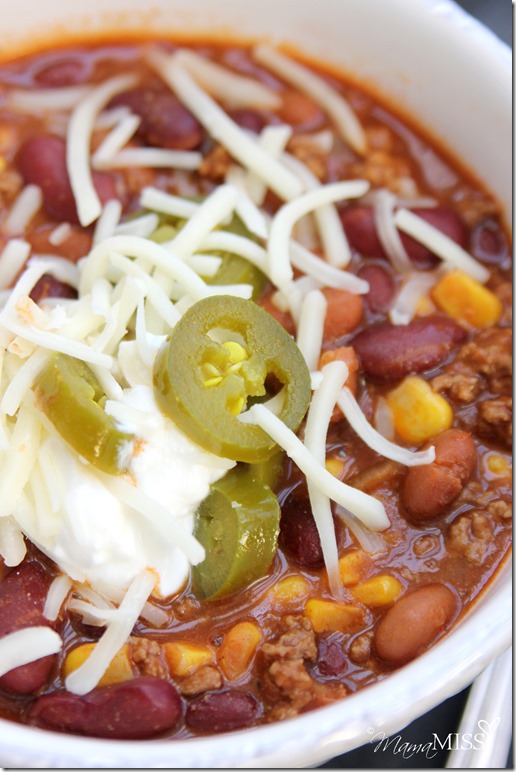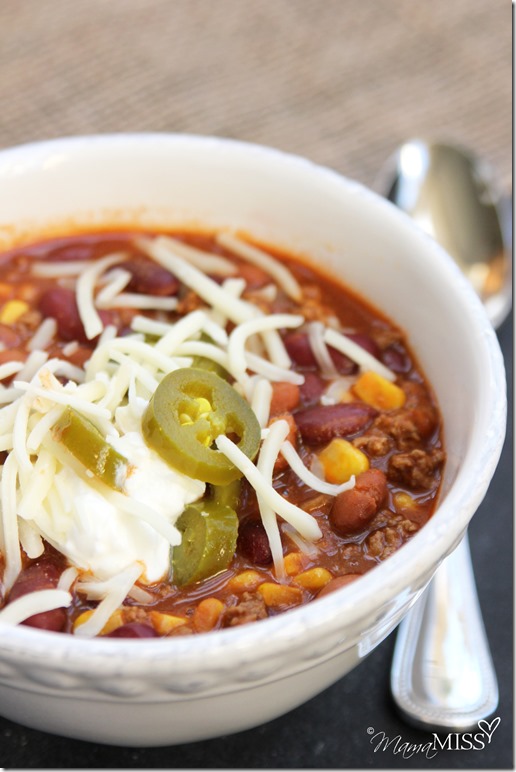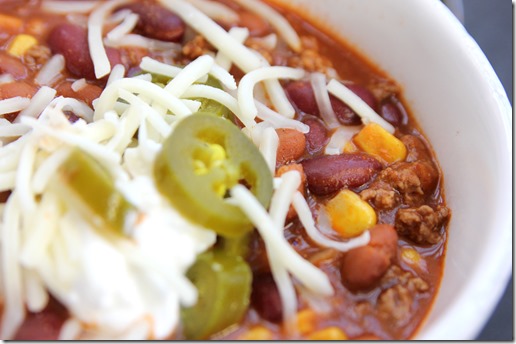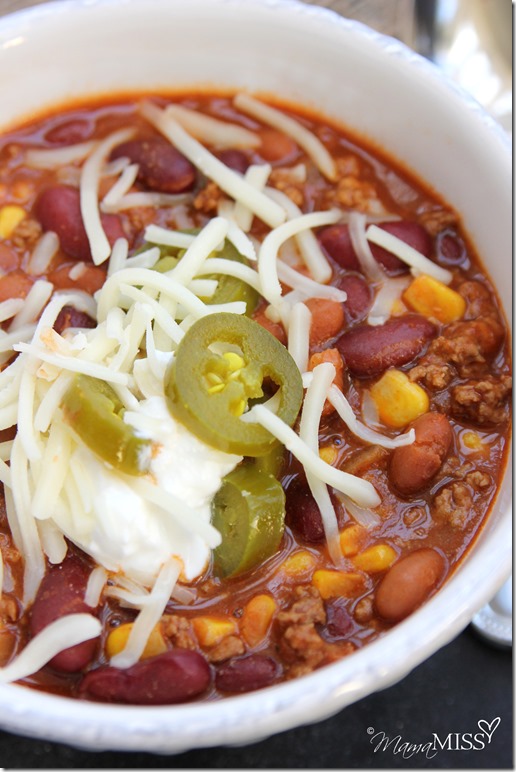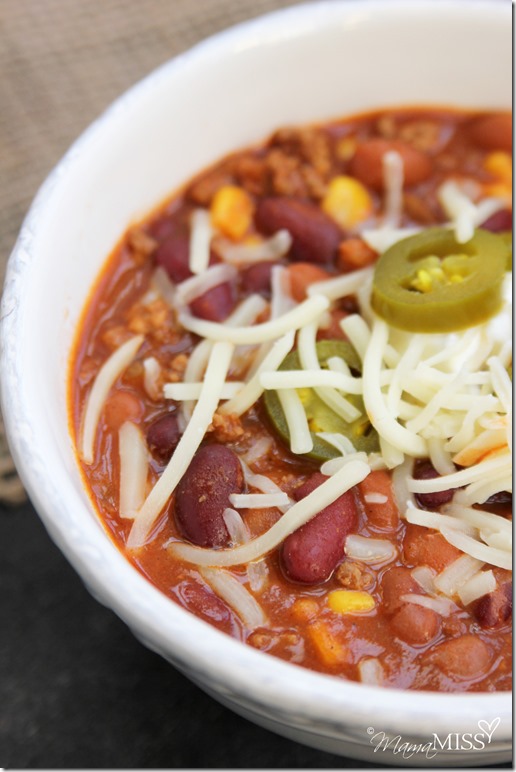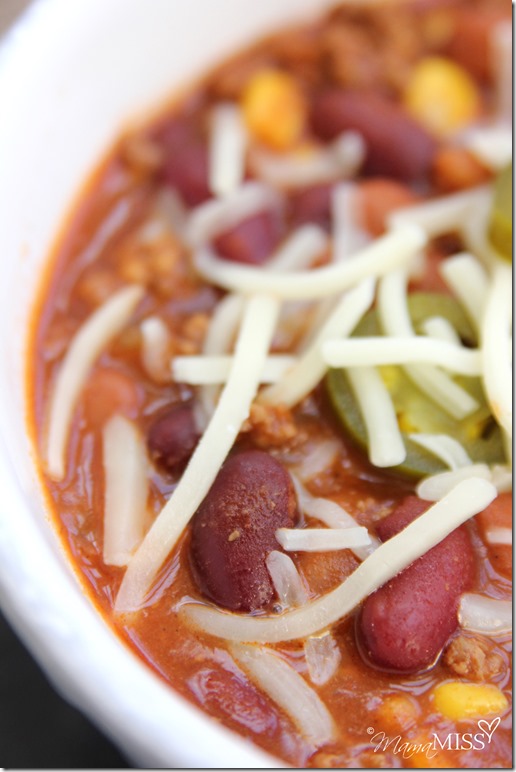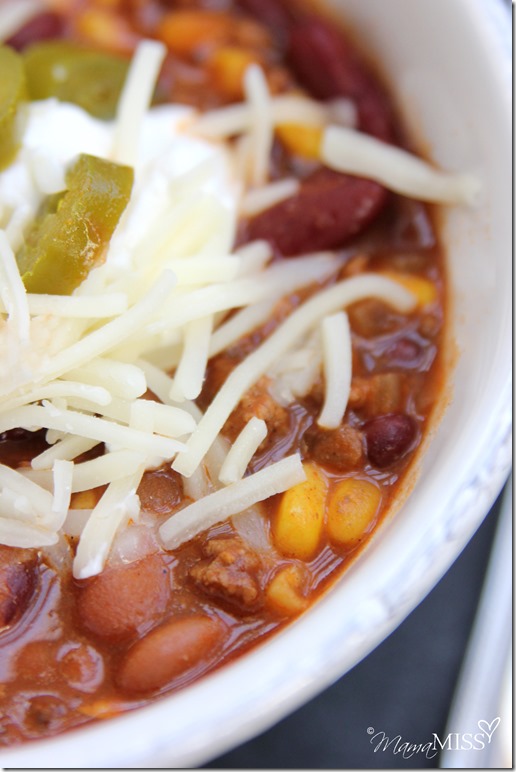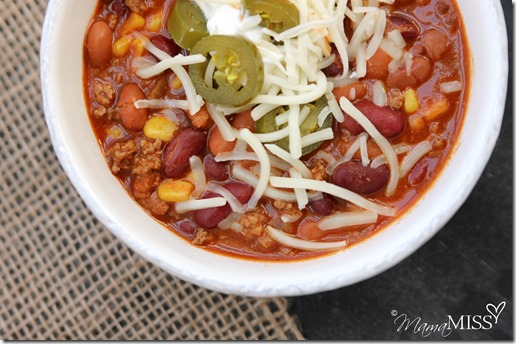 This easy and and quick-to-make chili has a small touch of sweetness that is perfect for a crisp fall meal.
Ingredients
1 lb ground beef
3/4 cup chopped sweet onion
1 teaspoon minced garlic
2 cups hot water
1 tablespoon chili powder
1 teaspoon salt
1 16oz can seasoned chili beans, undrained
1 15.5oz can dark red kidney beans, rinsed and drained
1 11oz can whole kernel sweet corn
1 6oz can tomato paste
Optional garnish
sliced jalapenos
sour cream
shredded monterey jack cheese
Instructions
Cook meat, chopped onion, and garlic in a Dutch oven or large pot over medium-high heat until meat is browned, stirring to crumble.
Once fully cooked and meat is no longer pink, drain in a colander, then return to pan.
Stir in hot water, chili powder, salt, chili beans, kidney beans, corn, tomato paste.
Bring pot to a boil, cover the pot; Reduce the heat to a simmer.
Simmer for 15-20 minutes; Stirring occasionally.
Add garnishes & serve with honey cornbread
https://www.mamamiss.com/blog/2012/09/18/eats-my-favorite-chili/
All rights reserved Copyright 2012-2019 Mama Miss Blog and Designs
mmmmmmmm….YUM!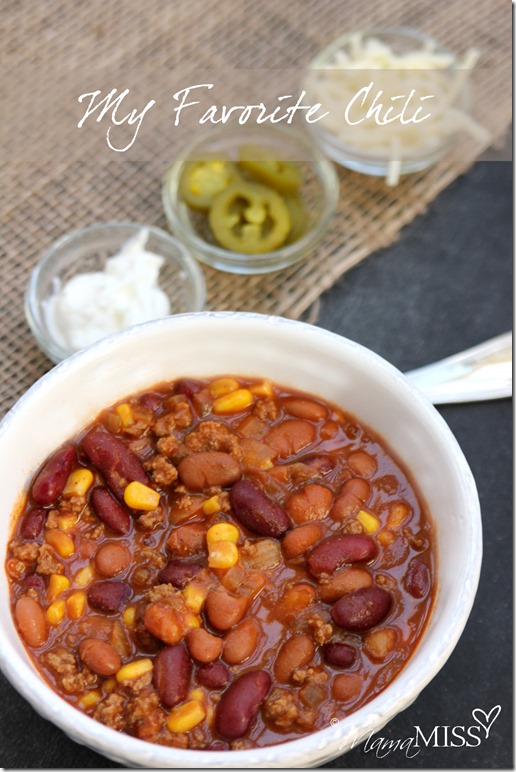 ♥
Like what you see?!
You can connect with me on Pinterest|Facebook|Twitter|Google + too!
♥
© Mama Miss. All images & content are copyright protected.
Feel free to share one picture and linking directly to this post for download.
Please do not copy directions, ingredients, or pdf files for your own website.
Copying my post partially, or fully, is strictly prohibited.
All work by Mama Miss is licensed under Creative Commons Attribution-NonCommercial-NoDerivs 3.0 Unported License.
♥♥♥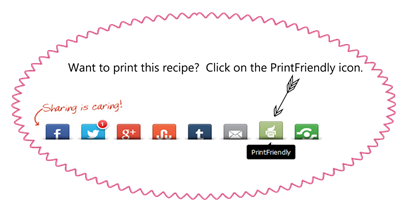 (Visited 2,823 times, 1 visits today)