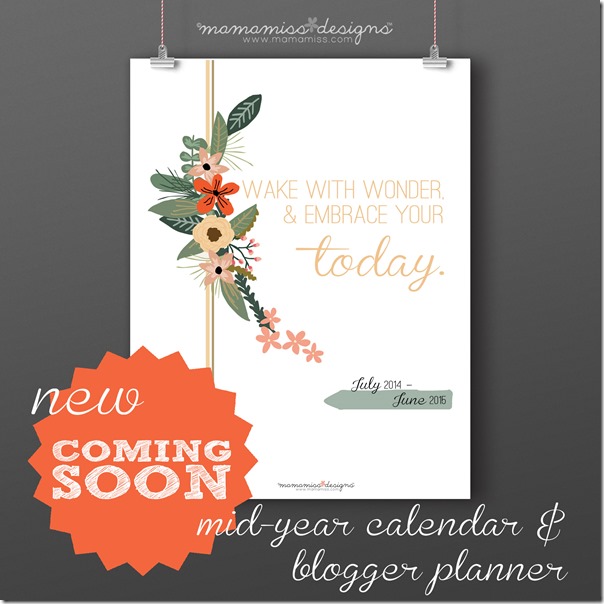 Sooooo, YOU GUYS ROCK! You seriously do!
I had no idea how much you all wanted a pretty blogger planner as much as I did!
Wanna hear the honest truth?! Hubs thought I'd sell 4 or 5 – haha that silly hubs! I thought I'd sell a couple to blogger friends but HAD NO IDEA that you guys would blow this thing outta the water!!! Your support has been through the roof & I just wanted to thank you all – from the bottom of my heart! And for proving hubs (and me) wrong ;) ♥
So I HEAR YA! And, several have emailed me asking for more, more, more… a mid-year calendar, a 2015 calendar, and a teachers calendar.
I'm hear to tell you that all three of those are in the works!! woot woot!!
The Mid-Year Calendar and Blogger Planner, July 2014 – June 2015, will be the first to be released here soon – so stay tuned – it's crunch time folks & I'm trying to make it happen in my free mama time (now if someone could break it down to V&T that would be AH-MAZING – you know entertain them – I'm totally okay with sweet treats being involved for bribery ;)
**UPDATE**

The teacher one will be released next (I'm working with a fab teacher friend who has sent me her teacher wish list in a teacher planner – thanks April!!).
And then, low & behold, the full calendar year 2015 Calendar and Blogger Planner, will most likely be released in the fall sometime.
Sooooo without further ado I will get back to work here – but wanted to pop in & tell ya the official news & give you a sneak peek of that new cover (see up there in clipped hanging) for the Mid-Year Calendar and Blogger Planner, July 2014 – June 2015.
In the meantime there is also the baby calendar & the menu planner too, in my shop. ♥

♥
Like what you see?!
You can connect with me on:
Pinterest || Facebook || Twitter || Google +
And don't miss any updates…
♥
© Mama Miss. All images & content are copyright protected.
Feel free to share ONE picture and linking directly to this post for download.
Please do not copy directions, ingredients, or pdf files for your own website or Facebook page, visuals or words.
Copying my post partially, or fully, is strictly prohibited.
All work by Mama Miss is licensed under Creative Commons Attribution-NonCommercial-NoDerivs 3.0 Unported License.
♥♥♥
(Visited 477 times, 1 visits today)