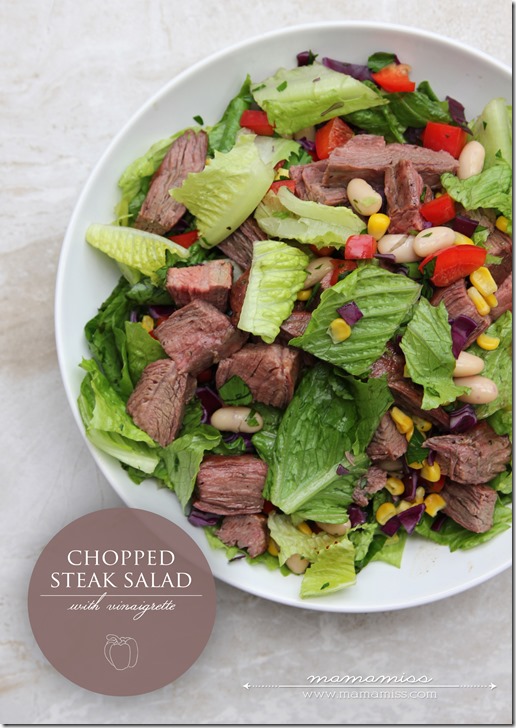 I usually try to incorporate a yummy salad into our weekly meal planning – just to mix it up a bit.  This high protein, full meal salad is one of my very favorites.  The corn adds sweetness, the red pepper and cabbage provide some extra crunch, and the dash of vinaigrette dressing brings all the flavors together in this tasty chopped steak salad.
Serve this chopped steak salad up with some homemade beer bread or some buttered crusty French bread to complete your meal.
Yummers – is your tummy grumbling yet?!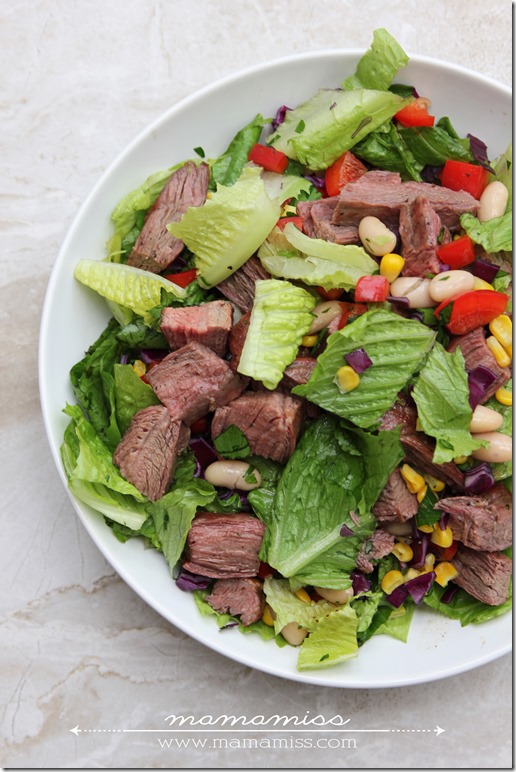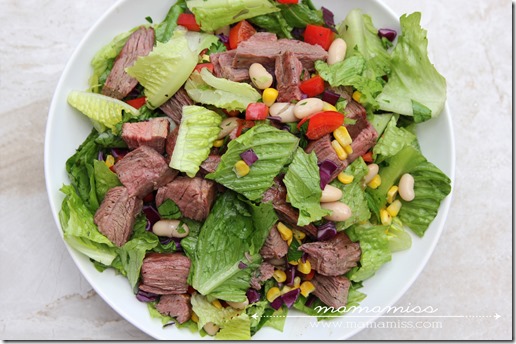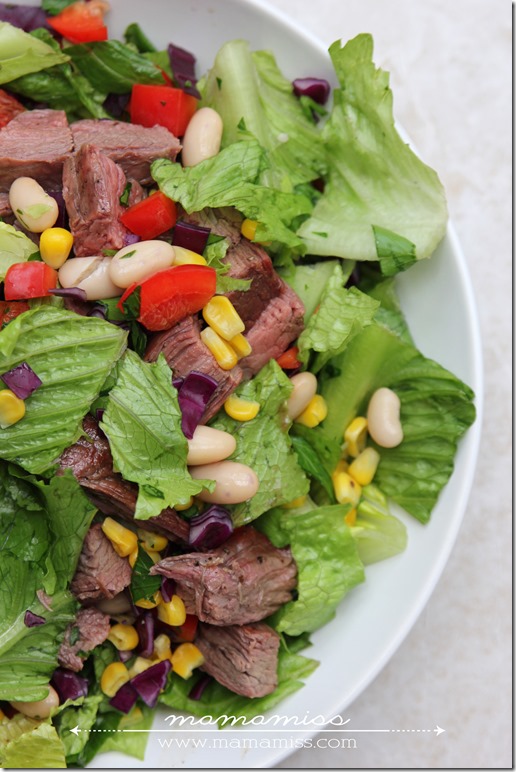 This high protein, full meal, has sweetness, crunchiness, and tanginess - all pulled together in this tasty chopped steak salad.
Ingredients
1 lb flank steak
freshly ground coarse black pepper
freshly ground coarse sea salt
2 ears fresh corn, husked, cleaned and ends trimmed
10oz. bag of romaine lettuce hearts, washed & drained
2 cups chopped red cabbage
1 15.5 oz can cannellini beans, rinsed & drained
1 small red bell pepper, chopped
1/4 cup Italian (flat leaf) parsley, chopped
1/4 cup vinaigrette
Instructions
Heat broiler. Season steak with black pepper & sea salt. Place on broiler-proof rimmed baking sheet. Broil the steak to the desired doneness (alternatively you could also grill the steak on an outdoor grill). Let rest for 5 minutes, then cut into small, edible pieces.
While steak is cooking; Fill a large pot half full with water; bring to a boil. Add corn; cover and cook for 3-5 minutes (do not overcook).
Remove corn from pot; Cut cobs of corn from the cob with sharp knife.
Place each corn, standing vertical, end side down on a cutting board. Using a sharp knife, holding near the top of the ear, start at the top and cut downward from the cob. Continue cutting until all of the corn is removed.
In a large bowl, add the corn, romaine lettuce, red cabbage, cannellini beans, red pepper, parsley, and chopped steak. Toss together gently until combined. Add the vinaigrette and toss well.
Divide the salad into large salad bowls.
Notes
https://www.mamamiss.com/blog/2013/11/05/chopped-steak-salad/
All rights reserved Copyright 2012-2019 Mama Miss Blog and Designs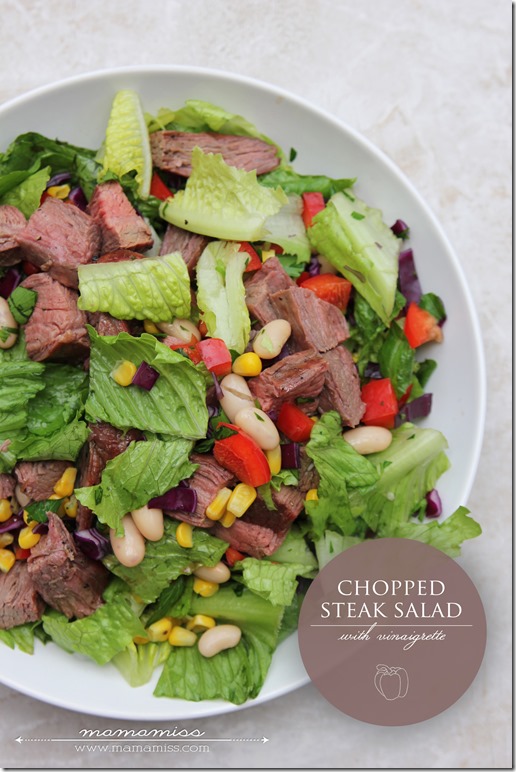 ♥
Like what you see?!
You can connect with me on:
 Pinterest|Facebook|Twitter|Google + too!
♥
© Mama Miss. All images & content are copyright protected.
Feel free to share one picture and linking directly to this post for download.
Please do not copy directions, ingredients, or pdf files for your own website.
Copying my post partially, or fully, is strictly prohibited.
All work by Mama Miss is licensed under Creative Commons Attribution-NonCommercial-NoDerivs 3.0 Unported License.
♥♥♥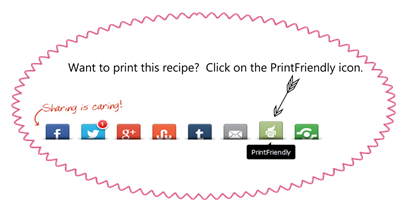 Please note that affiliate links are also provided throughout the post for your convenience – to allow direct access to the products suggested.
(Visited 2,159 times, 1 visits today)